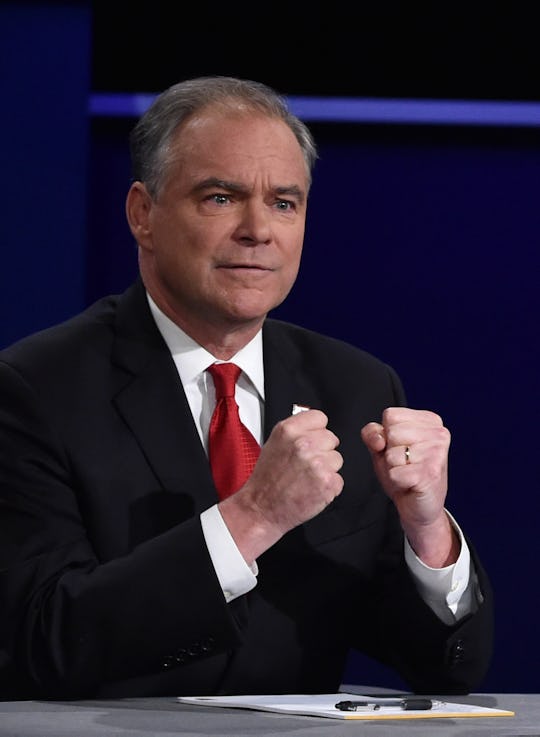 PAUL J. RICHARDS/AFP/Getty Images
Tim Kaine's Comment On Implicit Bias Was One Of The Most Important Of The Campaign
The vice presidential debate at Longwood University in Virginia has been way more exciting and illuminating than one might think. First of all... give Democratic vice presidential candidate and Virginia Sen. Tim Kaine his due; he did his research. He brought his A game, if you will. And Kaine's statement about implicit bias was one of the most important of the campaign.
Kaine and his adversary, Indiana Gov. Mike Pence, were discussing the issue of policing in America. When moderator Elaine Quijano (who, in my humble opinion, truly killed it as the moderator of the VP debate) brought up the fact that South Carolina Republican senator Tim Scott announced on the Senate floor that he had been stopped by police not once, but six times as a black man, the subject of racial profiling was introduced. Pence, using his best modulated tone to make us feel all safe and warm, spoke of his uncle who was a police officer. He insisted that the police force in general is a "force for good" and that police officers in general are "the best of us." Then, Pence said, "Why would Hillary Clinton accuse that African American police officer of implicit bias?" Perhaps hoping Tim Kaine would be cowed into skirting the question by the mention of implicit bias.
Nope.
Kaine responded by saying that "at the risk of agreeing" with Pence, he fully believed in the concept of community policing. But, he added:
People shouldn't be afraid to bring up issues of bias in law enforcement. And if you're afraid to have the discussion, you'll never solve it.
He went on to pay tribute to Philando Castile, an elementary school worker was killed in July by police in St. Paul, Minnesota. Said Kaine:
He was killed for no apparent reason. He had been stopped 40 or 50 times before that incident. They called him Mr. Rogers with dreadlocks at the school where he worked; the kids loved him.
As the vice presidential candidates continue to debate issues of national security, financial growth, and (most of all) Hillary Clinton and Donald Trump, the issue of implicit bias remains an important one. After a long year of #AllLivesMatter and #BlackLivesMatter, when the entire country seems to be lining up on one side of an impossible line or another, the issue of racial profiling in a racially diverse country is not one that can be swept under the rug.
And kudos to Tim Kaine for refusing to be intimidated by the mention of bias. Whether he "wins" the debate or not, it was an important moment for the campaign, and in important moment for America in general.