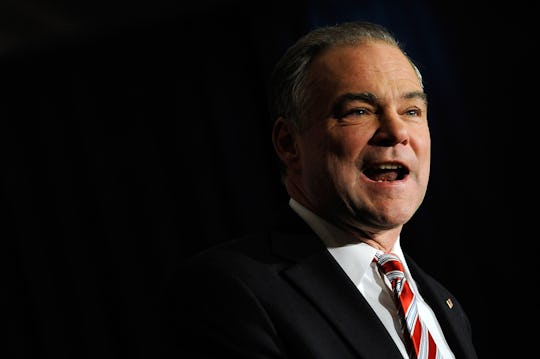 Patrick McDermott/Getty Images News/Getty Images
Tim Kaine's Views On Gay Adoption Show That Religion Doesn't Rule His Life
If you're not familiar with Hillary Clinton's running mate, Tim Kaine you will be soon. The Democratic Senator from Virginia is hitting the campaign trail this weekend and will be a prominent topic at the Democratic National Convention beginning next week. Before the convention, now is a great time to get to know the senator's stance on issues like Tim Kaine's views on gay adoption.
Despite being a Roman Catholic, Kaine has been vocal and outspoken in his support for gay adoption. In 2011, four years before same sex marriage became legalized in the United States, Kaine told the Washington Post his statement on gay adoption:
I think the best interest of the child is a pretty hard standard to argue with and I think that ought to be the standard.
However, Kaine's statements in the past were a little less open than the one given in 2011. During his campaign for Virginia Governor in 2005, Kaine stated "no couples in Virginia can adopt other than a married couple — that's the right policy." Yikes. However, according to the Washington Post, his stance shifted when he realized "the best interest of the child was all that mattered." Who said that politicians couldn't change their mind? It is great that Tim Kaine was able to learn more and therefore change his opinion on gay adoption.
In the past, Kaine has been neutral on his stance about gay marriage, giving a typical politician's answer to the Washington Post in 2012 — middle of the road and least offensive as possible. "I believe in the legal equality of relationships," Kaine said. "Relationship equality is a civil right." But as Virginia Governor, Kaine signed the Marshall-Newman amendment which defined marriage in Virginia being between a man and a woman (it was later repealed in 2014.)
But that doesn't mean that Kaine couldn't have had a change of heart and that doesn't mean that his views on gay adoption are the same as his views on same sex marriage (or that his views haven't changed, either). And his standing with organizations advocating for same sex rights shows that Kaine's views have, indeed, come around. Kaine currently has a 90% rating with the Human Rights Campaign. On his own personal website, Kaine reiterates that he is an advocate for equal rights among all people and admits to his wrongdoing as Governor.
Despite taking a while to form his stance on same sex marriage, Kaine firmly believe that same sex couples are allowed to adopt. This is great news and one stance among many that we will learn as Clinton and Kaine begin their campaign.