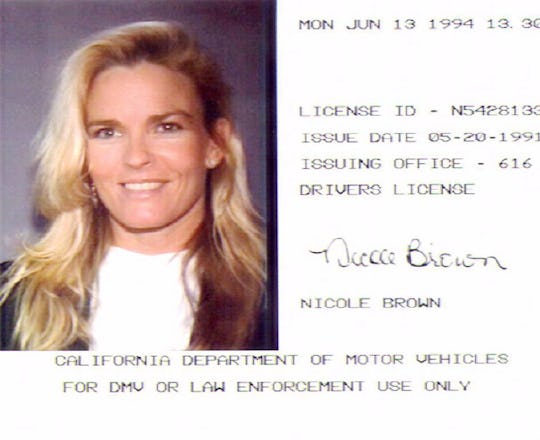 STF/AFP/Getty Images
Timeline Of Nicole Brown Simpson's Murder Brings It All Back
The murder of Nicole Brown Simpson and her friend, Ron Goldman, in June 1994 rocked the nation, as did the subsequent murder trial of her ex-husband, beloved pro football star O.J. Simpson. Now with American Crime Story: The People v. O.J. Simpson premiering Feb. 2 on FX, there's renewed interest in the details of the crime and the case against Simpson, but after 21 years, some viewers may be fuzzy on the details. A look back through newspaper coverage in 1994 provides a timeline of the Nicole Brown Simpson murder and how it unfolded.
So what exactly did happen that night in Brentwood, California and in the days that followed? How did Ron Goldman come into the picture? Where were O.J. Simpson's kids at the time? What were the circumstances of the white bronco chase that no one who watched it on live TV will ever forget? And what led to O.J. Simpson's ultimate arrest?
In the most basic terms, the murder took place June 12. Less than a week later, O.J. Simpson, was charged with first degree murder in the deaths of his ex-wife and Ron Goldman. In the trial that ensued, which ultimately found Simpson not guilty, both the prosecution and the defense presented their separate theories of what occurred that night, based largely on the timeline of events that evening and what happened in the aftermath.
Nicole Brown Simpson Has Dinner At Mezzaluna Restaurant With Her Kids And Others
On June 12, 1994, a Sunday, Nicole Brown Simpson had dinner with her children and others at 6:30 pm at Mezzaluna restaurant in Brentwood. They left the restaurant around 8 p.m. and got ice cream on the way home, Court TV reported.
At 9:15, one of Nicole's sisters called Mezzaluna to say that the women's mother left her glasses at the restaurant. Waiter Ron Goldman offered to return them. He left the restaurant around 9:50 p.m., according to witness testimonies in the subsequent murder trial.
Nicole Brown Simpson And Ron Goldman Are Murdered
The prosecution alleged that Brown Simpson and Goldman were murdered at 10:15, The Philadelphia Inquirer reported. They were knifed to death outside of Nicole Brown Simpson's condo at 875 South Bundy Drive in Brentwood, according to The New York Times. Simpson's children were sleeping inside, The L.A. Times reported.
That timing, the prosecution claimed, would have given O.J. Simpson time to commit the crime and return to his Brentwood mansion, where a limo driver picked him up around 11 p.m., Court TV reported. According to The Inquirer, Brown Simpson's neighbor, Pablo Fenjves, testified that he heard Brown Simpson's dog, an Akita named Kato, crying about 10:15 or 10:20 p.m.
The defense argued that the murder took place later, such that Simpson could never have had time to perpetrate it and make the flight he took later in the evening.
O.J. Simpson Leaves Los Angeles
According to a Washington Post article citing broadcast reports, Simpson left L.A. on American Airlines flight 668 at 11:45 p.m. bound for Chicago.
Nicole Brown Simpson And Ron Goldman's Bodies Are Found
Steven Schwab, who lived in Nicole Brown Simpson's neighborhood, testified that he had come across an Akita dog with bloody paws while out walking his own dog around 10:30 p.m. The dog followed him home and wouldn't go back where Schwab found him, Schwab later testified, and neighbors Sukru Boztepe and Bettina Rasmussen offered to keep the dog overnight, The Philadelphia Inquirer reported.
The couple testified that they decided to follow the dog, who was barking and agitated, and shortly after midnight, they discovered Brown Simpson and Goldman's bodies outside of Brown Simpson's townhouse. The Akita was identified as Nicole Brown Simpson's dog, Kato.
O.J. Simpson Checks Into A Hotel In Chicago
The general manager of a Chicago airport hotel told The L.A. Times that O.J. Simpson checked in at 6:15 a.m. Simpson allegedly told the manager that he was in town for a function for Hertz, the car rental company he was a spokesman for. The manager claimed he checked out at 8:30 a.m.
Police reportedly called Simpson with the news of Nicole Brown Simpson's death, and Simpson flew back to Los Angeles. When he returned to his mansion in Brentwood, about two miles from his ex-wife's home, according to The L.A. Times, police came over, and Simpson was handcuffed for some period of time. Then police took him to headquarters in downtown Los Angeles "to conduct a follow-up investigation and to question him as a potential witness" police told the newspaper. Simpson's attorney, Howard Weitzman, told reporters that his client "had nothing to do with this tragedy."
Nicole Brown Simpson Is Buried
Nicole Brown Simpson and Ron Goldman's funerals were held Thursday, June 16. O.J. Simpson attended Nicole Brown's funeral in Brentwood and burial in Lake Forest with their two children, Justin, 6, and Sydney, 9. according to The L.A. Times.
The same day, The L.A. Times reported, 1989 police reports were released detailing an incident in which O.J. Simpson allegedly beat Nicole Brown Simpson.
Simpson spent that night at friend Robert Kardashian's house in San Fernando Valley, according to The New York Times.
Police Charge O.J. Simpson, Simpson Flees
On the morning of June 17, police contacted Robert Shapiro, one of Simpson's attorneys, informing him that Simpson needed to surrender at 11 a.m. Police filed murder charges against Simpson.
When Simpson still hadn't surrendered by noon, police informed Shapiro that Simpson was considered a fugitive and made their way to the San Fernando Valley house where Simpson was located. By they time they arrived, Simpson had left with Al Cowlings, who had been a football teammate at both the college and professional level.
At 5 p.m., Shapiro held a press conference at which Kardashian read a handwritten note Simpson had left behind at the San Fernando Valley house, The New York Times reported. The note read, in part:
I think of my life and feel I've done most of the right things. So why do I end up like this? I can't go on. No matter what the outcome, people will look and point. I can't take that. I can't subject my children to that.
The note also contained the statement, "I have nothing to do with her murder. I love her."
It concluded,
Don't feel sorry for me. I've had a great life. Please think of the real O. J. and not this lost person. Thanks for making my life special. I hope I helped yours. Peace and love, O. J.
The press conference was televised nationally.
The Famous Bronco Chase Ensues
At 5:51 pm, Simpson reportedly used a cell phone to call 911 from his white Ford Bronco, which Cowling was driving. Authorities tracked the call and located the vehicle on the Santa Ana (5) Freeway in Orange County, according to The L.A. Times. At 5:56 p.m. police began pursuing the car. The chase across L.A. freeways was broadcast live around the country.
According to The L.A. Times, Cowling was driving while Simpson rode in the back seat with a gun to his head.
O.J. Simpson Is Arrested
The chase ended in the driveway of O.J. Simpson's Brentwood mansion around 8 p.m., according to The New York Times. Simpson stayed in the Bronco for a period, but by 8:47 police had taken him into custody, The L.A. Times reported.