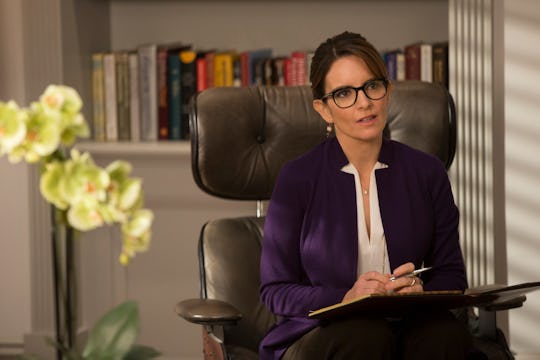 Eric Liebowitz/Netflix
'Kimmy Schmidt' Season 3 Doesn't Lack In The Cameo Department
For the first two seasons of Unbreakable Kimmy Schmidt, co-creator Tina Fey appeared in each installment as two different characters, so many fans expected her to come back as someone new for the third season. And honestly, I more than welcomed that idea just as long as she came back at all. But Tina Fey returned as Andrea on Unbreakable Kimmy Schmidt Season 3 and it was the right character for her to reprise. Well that, and she couldn't really come back as the show's version of Marcia Clark without a trial.
But Andrea, both the day and nighttime versions, was a great addition to Season 2, even if she never really got over her drinking problem. But she didn't need to, since in the end, her therapy worked for Kimmy once again and helped her work through her own issues. When Fey returned to Unbreakable Kimmy Schmidt as Andrea though, it wasn't the way anyone had really expected. Warning: Episode 11 spoilers ahead!
Kimmy discovered the tragedy of Googling herself and inadvertently found a video of Andrea online called "Drunk Lady at White Castle." In the video, she was wearing a bathing suit with a dog at her side at a White Castle, apparently trying to order burgers while, yes, totally drunk.
During what can only be described as a version of Dinner for Schmucks, Kimmy went to dinner at her professor's house where it was revealed to everyone else that she'd been a mole woman. And since she hadn't yet told Perry (Daveed Diggs), it brought up all of the old issues she'd work so hard with Andrea to get through. Kimmy ended up finding her by accident, but even though Andrea's return was more about the therapist's continued issues, it still kind of worked out for Kimmy.
When she did find Andrea, the therapist was up to her old habits of over-drinking, making dumb jokes, and trying to get a ride to her ex's house to spy on him. You know, just normal Andrea-type stuff. But she was also able to give Kimmy advice, as per usual, about her latest troubles surrounding being a mole woman. Even though Andrea quoted Elsa (her boyfriend's wife, not the Frozen character, mind you) by telling Kimmy to "let it go," it was likely what Kimmy needed to hear.
Somehow, Fey's return as Andrea, the alcoholic and now unlicensed psychiatrist on Unbreakable Kimmy Schmidt, proved to be once again helpful to Kimmy. It also leaves the door wide open for Andrea to return yet again in the future which, let's face it, is what we all want.