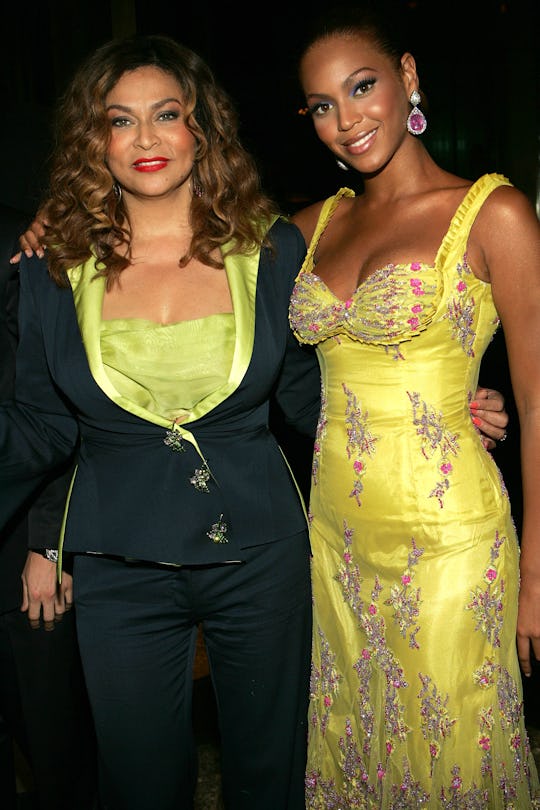 Frank Micelotta/Getty Images Entertainment/Getty Images
Tina Lawson Has "No Idea" About The Sex Of Beyonce's Twins
Even though devoted fans continue to dissect every Instagram post and jewelry choice for hints about the sex of Beyoncé's twins, she has not confirmed or denied anything yet. And perhaps she doesn't know either and wants to be surprised on delivery day. Or she totally does and wants to put the Bey Hive's investigative skills and creative minds to work. But, as it turns out, fans aren't the only ones in the dark because not even her mom, Tina Lawson, knows the sex of Beyoncé's twins.
In a recent interview with Extra, Lawson told Mario Lopez that she has "no idea" whether her new grandchildren will be two boys, two girls, or one of each. But, she did say that she'd be thrilled with whatever combination her daughter and husband Jay Z are expecting this time around. "I would be happy with whatever God gives me," the excited grandmother told Lopez. "It's the biggest blessing. I'm so excited!"
The 63-year-old businesswoman and fashion designer added that Beyoncé is "feeling really good" right now as she awaits the arrival of her bundles of joy. And — as always — she looks fabulous, especially in every Instagram photo she's posted since the big pregnancy reveal earlier this year. And ever since that beautiful piece of news hit headlines, fans have been searching for any subtle clue that might reveal the sex of her twins.
Just last month, fans seemed to think that the "Formation" singer was dropping some major hints about the sex of her twins because she posted some close-up shots of her blue-and-pink jeweled earrings and her high heels, which also featured blue and pinks jewels.
Fans interpreted these color choices as a possible hidden clue that she might be having a boy and a girl.
Of course, this is not the first theory fans have conjured up about the sex of her twins from subtle hints hidden in the 35-year-old star's Instagram posts.
According to People, back in March, fans thought Beyoncé was having twin boys because, in a different photo shoot, she wore the same earrings that she did in her 2008 music video for "If I Were A Boy."
While fans are hard at work, trying to crack Queen Bey's mysterious codes — if there is one to be cracked — the expectant mom is reportedly "taking it easy" right now, source recently told People.
But, whatever the outcome of Beyoncé's twins turns out to be — as Miss Tina told Extra — these bundles of joy are a blessing indeed.