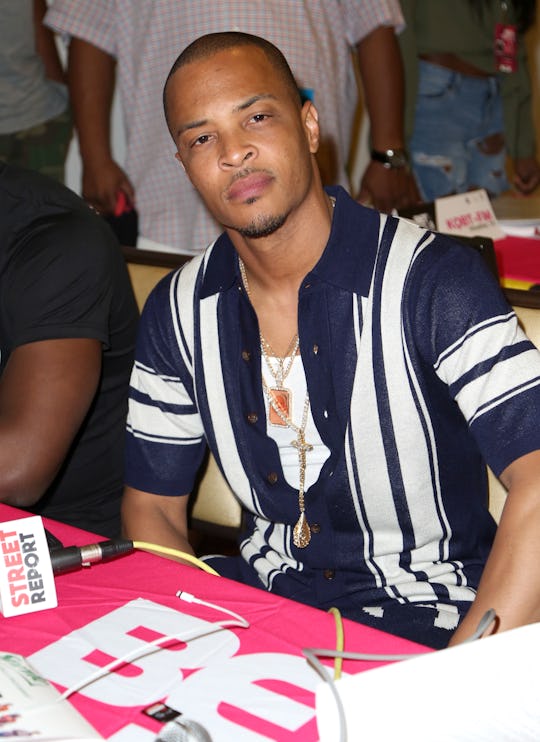 Maury Phillips/Getty Images Entertainment/Getty Images
T.I. Offers Advice To Rob K Following Social Media Rant
Rapper T.I. has a message for Rob Kardashian following his social media rant about ex Blac Chyna, in which Kardashian allegedly posted several nude photos of Chyna and shamed her for not breastfeeding their daughter, Dream, longer than four weeks. T.I. called out the reality star on a number of his actions, pointing out the alleged moral and ethical violations of his since-deleted posts. More importantly, T.I.'s response to Kardashian's Blac Chyna posts contains advice we all should follow when it comes to arguing and sharing personal information over social media in general: Don't do it.
T.I. engaged in a conversation with TMZ photographers on Saturday in LAX, where he shared a PSA that seemed to be directly intended for Kardashian:
Don't tell women's business. That's bad. That's very, very bad. Poor character. Flawed, you know what I mean? If a woman trusted you and confided in you with secrets and stuff like that, you don't ever let that — you don't do that. Secrets are sacred, you don't do that. That's a whole other level of f*ckboy sh*t right there.
Along with pointing out his wrongdoings, T.I. also mentioned that he thinks Kardashian will have a tough time finding love after his recent tirade (I think so too, TBH), though that part is significantly less important in the grand scheme of things.
Previously, in a comment posted on Instagram, T.I. responded directly to Kardashian's social media attack on Chyna:
Why bring ya business to IG tho? Look, You got worked bro… but at least keep it to yourself, you letting the world know you a duck. I mean a BIG DUCK, a mighty duck, Ronald McDonald the Duck, Scrooge McDuck, Howard the Druck, Huey Dewy & Lewie… save the #DuckTales Just hold this L, kiss ya kid & cut ya losses & move on… u got no moves bro.
Kardashian responded to T.I.'s chastising with more graphic accusations (along with a cringeworthy amount of unnecessary punctuation) — this time aimed at T.I.:
Since TI wanna chime in on business that don't concern him let's talk about the threesome you had with Chyna and your baby mama Tiny. Don't speak on my daughter when u having threesomes with young Chy and Tiny ::: and I put that on my daughters life since u wanna speak on my daughter,,, damn shame. Chyna told me everything about your threesomes with you and her and Tiny. U got no moves bro ;;; Correction ::: TI paid Chyna to have sex with Tiny and him.
Romper previously reached out to both Kardashian's and Chyna's representation about the allegations, but did not receive a response.
The two have since gone back and forth in more comments and videos, but the message in T.I.'s original video recorded by TMZ stands out: What Rob Kardashian allegedly did to Blac Chyna is wrong. He allegedly shared intimate photos, made some serious accusations, and used social media to throw himself a disappointing pity party. While he likely set out to embarrass Chyna, he ended up making a fool of himself instead. Thank you, T.I. for saying what we all feel: Don't tell women's — or anyone's — business, because it is bad.