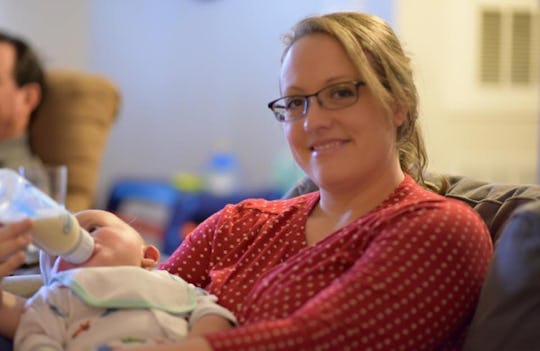 The author smiling the day before she checked into the E.R. Photo courtesy of Katie Alicea
Checking Into The E.R. Was The Only Way I Could Get The Help I Needed For My Severe Postpartum Depression
Shortly after the birth of my second child, I found myself sitting in an overcrowded emergency room at the largest hospital in Charlotte, N.C., waiting to be admitted to the psychiatric ward. Earlier that morning, I paged my midwife to tell her that I couldn't do it anymore. I couldn't deal with the anxiety, sleeplessness, and not being able to eat. I couldn't take care of my kids and I desperately needed help. Like many new moms before me, the best option, amid acute postpartum depression, was to go to the E.R.
After the baby was born and I started to feel things I didn't want to feel, I wasted no time in telling my doctors, friends, husband, and my counselor so they could begin monitoring me for worsening symptoms.
Looking after a newborn and a toddler was hard enough, but my older child was having a very hard time adjusting to sharing mommy. He wouldn't talk to me or spend time with me. Any time I tried to hold him he would wiggle away. Even when I didn't have the baby and could play with him, he wanted anyone but me. He was adjusting to this huge transition just like I was, but it was breaking my heart. I felt like I had ruined his life by adding another child to our family. On top of that, I was having trouble bonding with my new baby because of all the anxiety, guilt, and shame I was feeling. I resented him for how much he needed me, how horrible I was feeling, and how my whole life seemed to have crumbled since his arrival.
I felt like I hated motherhood and daydreamed about running away.
On the day I ended up in the hospital, I had woken my husband up in the morning morning by telling him I couldn't take care of our kids anymore.
All of what I was feeling was because of postpartum depression and anxiety. Even though I had prepared for it, I still didn't want to admit I had it or say out loud how desperate I was for help. But, after a month of barely any sleep, not eating, and feeling more and more anxious and hopeless as the days went on, I knew I needed more help. I told my midwife everything. She diagnosed me with postpartum anxiety and depression, and suggested I try an antidepressant/anti-anxiety medication, under the supervision of the practice's OB-GYN, along with continuing my counseling visits. And for a while the medication helped a bit, but even with increasing the dosage a few weeks later, the anxiety continued to grow until I was having nightly panic attacks.
On the day I ended up in the hospital, I had woken my husband up in the morning morning by telling him I couldn't take care of our kids anymore. I immediately went to see my midwife. The dread and desperation was overflowing and I couldn't take it anymore. It wasn't long into my appointment with my midwife when she looked at me with sympathetic and kind eyes and told me she thought the best course of action was for me to get some inpatient help at a hospital, because that is the only way to see a psychiatrist without a 6-8 week wait for an outpatient appointment.
I couldn't wait that long. I couldn't even wait one more day.
In order to be admitted as an inpatient at a hospital, I had to go through the emergency room. After being checked in at the front desk, I told the nurses why I was there: depression. They promptly had me remove all my clothes, took them from me, and told me that I was not allowed to hold the purse or bags I brought. A security guard came and scanned me to make sure I didn't have any weapons on me. Next, I was outfitted with a bracelet that would sound an alarm, should I try to leave without being discharged.
This is the first step of the protocol they go through when you come into the E.R. saying you are depressed or have postpartum anxiety. At that time I didn't have thoughts of harming anyone or myself, but they understandably had to follow the protocol, which entailed an overabundance of caution. When someone is experiencing any kind of postpartum mental health issue — depression, anxiety, or psychosis — it is not abnormal for them to have thoughts or feelings of wanting to harm themselves and/or others, according to the NHS. It not something anyone can control and we should not at all be ashamed or embarrassed for feeling that way.
All the rooms were full so I was put on a bed in the hallway of the "psych" section of the E.R. The rooms were full and the hallways overflowing with all manner of medical emergencies. Nurses and doctors were flying by me and my husband, who had come with me, at breakneck speeds and no one ever knew who was coming to see anyone or when they were coming. Even with all the craziness around me, I felt relief for a break from motherhood — even if that break was in a breast-milk soaked hospital gown on a bed in a hallway surrounded by strangers. I experienced firsthand the lack of adequate psychiatric care in this country. Far fewer medical residents are choosing psychiatry as their training specialty, and there is a nationwide shortage of psychiatrists as a result.
As I waited, I was told there was only one psychiatrist nurse for the entire hospital. I had to wait 10 hours just to see a psychiatrist via a telecom screen instead of in real life, but insisted on being able to see someone in person. After waiting 10 hours, they finally had a room for me on a post-surgical floor since all the beds in the inpatient psychiatric floor were full.
Off I went to sleep with a strange woman sitting at the end of my bed reading a book.
I had just gotten into yet another hospital bed, but this one didn't happen to be in a hallway. "Is this the sitter patient?" said a woman standing in the doorway of my room.
Confused by what the lady had said, I asked the nurse what a "sitter patient" was. The nurse gently explained to me that although I had been adamant that I didn't want to harm myself or others, my telepsych doctor had decided to involuntarily commit me to the hospital and that I couldn't leave until I was discharged. And because I was committed for psychiatric issues, I was also automatically put on suicide watch and would have a person sitting with me — a sitter — in my room 24 hours a day to make sure I didn't harm myself. I was a "sitter patient."
I was too exhausted to argue, so off I went to sleep with a strange woman sitting at the end of my bed reading a book.
By the next day, after lots of calls to a patient advocate, I was finally able to see a real-life, in-person psychiatrist who, thankfully, spent hours listening to me and coming up with a treatment plan I was comfortable with. I was able to stay and get some rest, get the break I needed to get myself on the track to healing again. I was later discharged feeling confident in the plan we had come up with.
By three months of outpatient treatment, I was feeling better than I had before I had ever had children.
Thankfully, after several weeks of outpatient counseling, the right meds, and lots of self care, things began to improve for me and by three months of outpatient treatment, I was feeling better than I had before I had ever had children. Much to my mama-heart relief, my oldest son was also doing so much better and was back to wanting me every second of the day and letting me cuddle him any time I wanted.
If you are pregnant, or are planning to get pregnant — even if you have had a baby before and never had any mental health issues — it is important to educate yourself and those closest to you on the signs and symptoms of postpartum depression, anxiety, and psychosis.
If you have a history of mental illness, your risk of postpartum mental health issues will be higher, as the NIMH notes. Plan to have as much help and support in place after baby arrives as possible. Asking for help can be hard, but being overwhelmed by motherhood is much harder. It's great to do as much preventative care as possible while at the same time remembering that even when we do all the right things and prepare as much as possible, it can still happen. If you are experiencing postpartum depression, anxiety, or psychosis, please speak up and tell someone how you are feeling. If you don't like your doctor or therapist, keep looking until you find one you are comfortable with. If you need medication, but can't find one that works, keep trying. Mental healthcare is complicated because our brains are complicated. It may take time to find what works for you, but it is worth it.
I want to share my experience, not to scare people away from getting help, but to shed light on our great need for changes in our healthcare system regarding mental illness and the need to be talking about mental illness more often. There is still a stigma attached to seeking counseling and/or taking medication should you need to in order to get mentally healthy, and the more we talk about it the less of a stigma there will be.
Reflecting back on three years of growth, recovery, and healing, I can see how I have become more confident in myself and my ability to overcome hardships. I have gained resiliency by being willing to push hard for my own mental healthcare and not give up seeking the right treatment for me even when it was very challenging. Motherhood is still challenging some of the time — OK, most of the time — but I have the tools and experience to to overcome these challenges and love myself and my family from a healthy place.
If you or someone you know is experiencing postpartum anxiety, depression, or psychosis, please speak with your doctor immediately, call a hotline who can help , or go to the emergency room. There is so much information and support available, including local support groups. 1 in 7 women are likely to experience postpartum mental health issues in their lifetime. You are not alone, there is help.