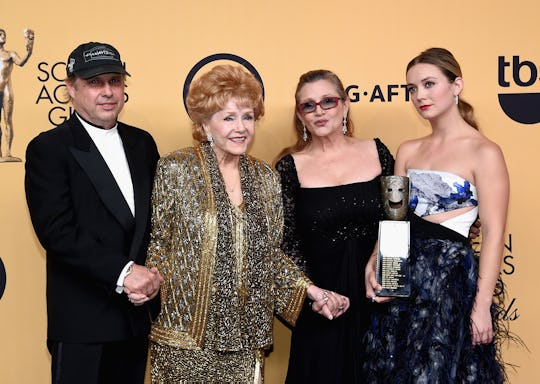 Ethan Miller/Getty Images Entertainment/Getty Images
Debbie Reynolds Did Not Die Of A Broken Heart
When 84-year-old legendary actress Debbie Reynolds died on Wednesday, just one day after the death of her 60-year-old daughter Carrie Fisher, the timing was too weird. While the world was still mourning Fisher, Reynolds passed away — making the grieving process even harder. Because of the timing of Reynolds' death, many suspected that it wasn't a coincidence — and that she could have died of a broken heart, with the death of her daughter being too much to bear. Reynolds' only surviving child quickly put that idea to rest in his first televised interview since the death of his sister and mother. In an appearance on 20/20, Todd Fisher says Debbie Reynolds did not die of a broken heart — but that it was her destiny to be with her daughter instead.
On Friday night, Todd gave an incredibly honest interview to ABC's 20/20 revealing details about his mother's last moments that could provide some much needed closure to fans. But Todd was also there to dispel a few things — namely, the idea that Reynolds died of a broken heart because the grief was too much to handle. Instead, Todd told 20/20:
She didn't die of a broken heart. She just left to be with Carrie...Carrie was a force of nature in her own right, you know, it took another force of nature to bridle and work with that and she was great with her.
It is actually possible to die from a broken heart. According to USA Today, women can experience sudden and severe chest pain — or stress-induced cardiomyopathy — which is a reaction of stress hormones, triggered by a traumatic event. It was initially reported that Reynolds died of a reported stroke.
Both Carrie and Reynolds' deaths were shocking to most fans— especially since it was unclear if Reynolds or Carrie had been sick leading up to their deaths. Their unexpected passings, that came out of no where, felt like a blow to the end of the year. But Todd assured fans that while Reynolds' passing might have been sad, it was her "destiny" to join her daughter. "From the family's perspective, this is Debbie's destiny," Todd told 20/20. "She didn't want to leave Carrie and did not want her to be alone."
Todd also gave details about the joint-funeral that the mother and daughter world share, telling 20/20 that the actresses would be buried next to each other "and among friends" in Los Angeles, California.
During the interview, Todd perfectly summed up the mixed emotions that fans are feeling. According to Entertainment Tonight:
We're broken hearted, those of us that are left behind. We are also happy that they're together. It's horrible, it's beautiful, it's magical they're together, it's beyond words, it's beyond understanding.
While the timing of their deaths was untimely and tragic, both mother and daughter are together — they left together.