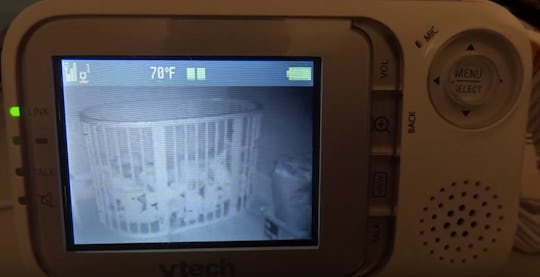 Image: JonathanHLiu/YouTube
Toddler Is Caught On Baby Monitor Singing "Imperial March" From 'Star Wars' In Bed (The Nerd Is Strong In This One)
If you haven't got someone in your life who's excited about Star Wars: The Force Awakens by now, I'm not sure where you're living. People everywhere are gearing up for the new release by watching some (or all, because duh) of the original Star Wars movies. In my group of friends, we have a "Machete viewing" of the films planned for this Saturday, and yes, we're not just talking about the nerds in the group (although it was initiated by the nerds because these are the sorts of things we count on nerds to do).
Apparently the impact of the original movies has not diminished as it carries over to the new generation, as proven by this toddler singing the "Imperial March" theme in her crib, caught by its parents via a baby monitor. I hope John Williams is out there somewhere, enjoying the fact that a 2-year-old is killing it with those crazy musical intervals.
Having access to video surveillance of our children while they're (supposedly) sleeping has ended up being one of the best sources for hilarious and incredible evidence of our children doing things we had no idea they were doing. Seriously, before video monitors, parent did not know kids were doing crazy sh*t. What did they laugh at? How did they go viral? What was that life? OK, I'm getting a little worked up, but video baby monitors are great, is the point.
And here are 4 other times baby monitors captured amazing things.