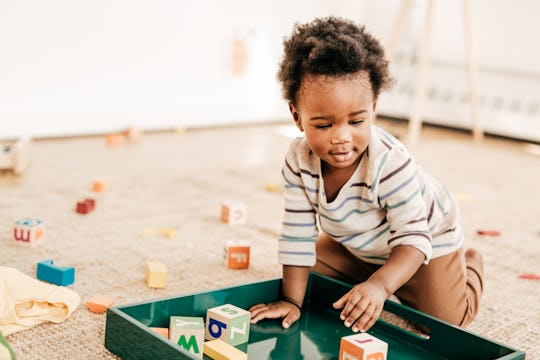 Weekend Images Inc./Getty
Toy Storage Ideas For Small Homes That Prevent Clutter & Chaos
Living in 1,200 square feet with a husband, two cats, two beagles, and a toddler has been an adventure. We sure love it, but it makes some things more challenging for us than families in larger homes (with playrooms and extra space). We needed toy storage ideas for small homes stat, once my son grew from infant to toddler and came with eight million items.
Honestly, I feel like our home still isn't even that small compared to other families, but when it comes to clutter, we definitely notice if my son's toys aren't tucked away — because when stuff is everywhere, it drives me absolutely insane.
Organization expert Marty Basher tells Romper that a big thing that can help with toy clutter is to follow a "less-is-more" approach. "In fact, downsizing toys not only prevents overstimulation, but also fosters the appreciation of quantity over quality," Basher says. "Toys should be seen as tools to promote creativity, imagination, and problem solving skills. Too often parents confuse flashy, trendy toys as a means to entertain their children.
"Always choose quality over quantity when it comes to picking out toys for children, and keep in mind the power of learning through play — for the sake of your child's development and clutter control in your house," he says.
Ryan Youngberg, dad and co-founder of parenting website Baby's Journey tells Romper that babies will usually do well with three to five of their favorite "teethers, taggies, or small plush toys." He says to not go crazy buying a ton of toys for your baby because you'll be packing them away for the next baby should you choose to have one. But he says toddlers are more in the 25 to 50 toys range since their attention span is so short. Youngberg recommends a mix of engaging and education toys to stimulate their minds, like alphabet blocks or toys with numbers. "They'll love interactive toys that light up and talk or sing to them the most."
The blogger behind Reduce, Reuse, Renew, Laura Durenberger, tells Romper that her family created a "one item in, one item out" rule for their household. "When it comes to kids, there isn't usually a shortage of toys coming in, especially for birthdays and holidays — this keeps the 'clutter creep' at bay," she says.
If you're already drowning in a mountain of toys even after a purge, you can either hide them in an attic or basement to rotate out every few weeks, or you can use any of the below products to help you organize all those toys within your small space.
We only include products that have been independently selected by Romper's editorial team. However, we may receive a portion of sales if you purchase a product through a link in this article.