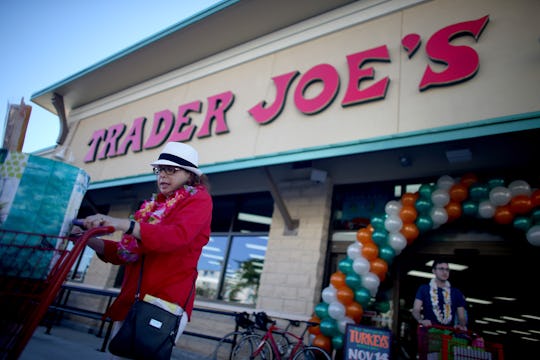 Joe Raedle/Getty Images News/Getty Images
Trader Joe's Has An Advent Calendar For Dogs & The Holidays Just Got Way Better
How do we know it's Christmas time? It's certainly not when big box stores unleash their enormous stock of holiday decorations in October. It's when Trader Joe's tells us what kind of yuletide treats we'll be inhaling Christmas morning. In fact, I'm not convinced it's fall until I can pick up a box of its Pumpkin Bread & Muffin Mix — by far better than anything I've made. So what's in the store's 2018 lineup? Rumor has it an advent calendar for dogs is on the list, and I might never recover if that's the truth. (Kind of like I'll never get over how they took the Peppermint Joe-Joe's Ice Cream off the market.)
In a recent episode of the podcast Inside Trader Joe's, President of Stores Jon Basalone mentioned the upcoming canine-centric advent calendar while discussing the coming holiday products, as reported by Red Tricycle — and said next to nothing else about it. Is it 12 days or 25 days? Or does it go traditional and encompass all four weeks of the liturgical advent season? What are the treats, Jon? Is it cute? Will we have the pleasure of looking at a dachshund in an elf costume when we dole out treats for our pup?
"This year I think the product that's really going to be amazing is the the dog advent calendar, or what I'm trying to say, it's the advent calendar for your dog," he said in the episode. "We're going to have to get two, because we have two dogs and everyday they get a little treat."
And that's all we get for now. It's not surprising that Trader Joe's is capitalizing on the pet products market, considering that the American Pet Product Association estimates that pet owners will spend over $72 billion (that's in U.S. currency, folks) on their fur babies by the end of 2018. The amount of money people spend on their animals has increased every year, according to Fortune, from $17 billion in 1994, and 75 percent of American households have at least one dog or pet. We love our animals, so it was only a matter of time before they got in on the holiday festivities with us.
At least Basalone and podcast hosts Tara Miller and Matt Sloane also revealed the introduction of some other holiday products Trader Joe's enthusiasts can get excited about. Keep an eye out for buche de noel ice cream (which Sloane describes as custard flavored ice cream with fudge and meringue bits), turkey and stuffing potato chips; butter toffee pretzel, organic, cold-pressed spiced cider; and a soft cheese called Grain d'Orge from Normandy that's laced with apple brandy.
"I also like to pretty much set up a tent and live in our cheese section during the holidays," Basalone says, explaining that not only does the store bring in more inventory, but that inventory includes specialty items like the Grain d'Orge.
But to get to dog calendars and fancy cheese, we must first traverse through through the store's fall items and prepare for Thanksgiving (with pleasure!). Of course, I'm partial to the aforementioned pumpkin bread mix and its compatriots, but a whole lot of turkey-related items will be available soon. Consider, for instance, a recipe the store provides on its website for stuffing muffins, concocted with TJ's Cornbread Stuffing Mix, cooked turkey meatballs and turkey gravy. Serve with the store's turkey en croute and cranberry-persimmon relish, finish off with a few sips of Trader Joe's Pumpkin Spice Cream Liqueur, and you'll have a cheat feast with only the best the store has to offer. Hey, it should at least keep you satisfied until you can lay eyes on that sweet advent calendar for your pup.