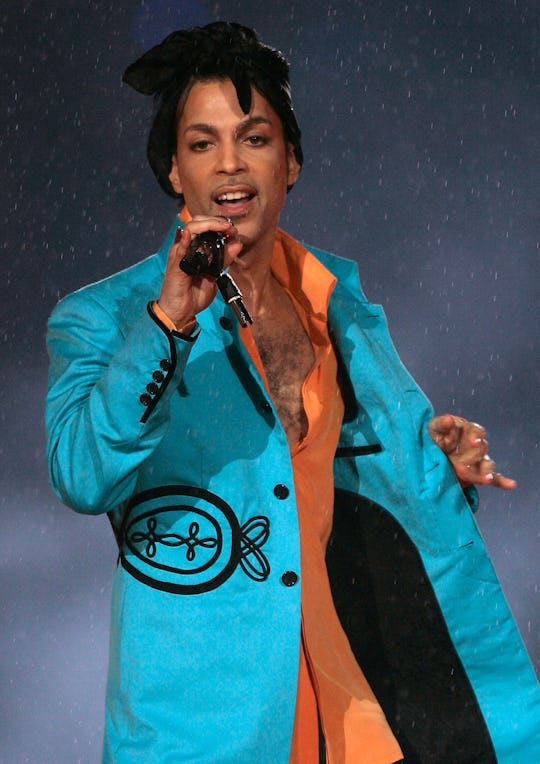 Donald Miralle/Getty Images Sport/Getty Images
Transcript Of Prince's 911 Dispatch Reveals Clues To His Cause Of Death
Fans mourned the loss of another music icon on Thursday. Grammy and Oscar-winning singer-songwriter Prince was reported dead Thursday morning by his publicist and close family sources. While no news was immediately available about the cause of death, a transcript of Prince's 911 dispatch call, recorded after an unidentified male rang the emergency service upon finding the singer unresponsive, was recently released by the Carver County Sheriff's Office. According to the 911 call, Prince had been reportedly found unconscious from an alleged drug overdose.
TMZ claimed in a report on Thursday evening that the overdose, and Prince's alleged subsequent refusal of treatment, lead to his death. According to the outlet, the singer had refused treatment for an opiate overdose earlier in the week. TMZ claimed that "Prince was rushed to a hospital and doctors gave him a 'save shot' ... typically administered to counteract the effects of an opiate," according to multiple sources. Prince's publicist has not yet confirmed the claims.
The transcript of Thursday's 911 call gives a few clues as to the singer's final moments: At one point, the caller seems flustered and is unable to provide a street address to the dispatcher, but eventually gathers himself and says that Prince isn't breathing.
Below is the full transcript of the 911 call as reported by Variety.
Dispatcher: 911, where is your emergency?
Unidentified male: Hi there, um, what's the address here? Yeah we need an ambulance right now.
D: Okay.
UM: We have someone who is unconscious.
D: Okay, what's the address?
UM: Um, we're at Prince's house.
D: Okay, does anybody know the address? Is there any mail around that you could look at?
UM: Yeah, yeah, okay, hold on.
D: Okay, your cell phone's not going to tell me where you're at, so I need you to find me an address.
UM: Yeah, we have um, yeah, we have um, so yeah, um, the person is dead here.
D: Okay, get me the address please.
UM: Okay, okay, I'm working on it.
D: Concentrate on that.
UM: And the people are just distraught.
D: I understand that they are distraught, but…
UM: I'm working on it, I'm working on it.
D: Okay, do we know how the person died?
UM: I don't know, I don't know.
D: Okay.
UM: Um, so we're, we're in Minneapolis, Minnesota and we are at the home of Prince.
D: You're in Minneapolis?
UM: Yeah, Minneapolis, Minnesota.
D: You're sure you are in Minneapolis?
UM: That's correct.
D: Okay, have you found an address yet?
UM: Yeah, um, I'm so sorry I need, I need the address here?
Unidentified female: 7801
UM: 7801
D: 7801 what?
UM: Paisley Park, we are at Paisley Park.
D: You're at Paisley Park, okay, that's in Chanhassen. Are you with the person who's…
UM: Yes, it's Prince.
D: Okay.
UM: The person.
D: Okay, stay on the line with me.
UM: Okay.
(Phone ringing)
Ambulance dispatcher: Ambulance, Shirley.
D: Carver with the transfer for Paisley Park Studios, 78.
AD: Paisley Park Studios, okay.
D: 7801 Audubon Road.
AD: Okay.
D: We have a person down, not breathing.
AD: Down, not breathing.
D: Yup.
UM: He's, he's…
D: We're going to get everybody, go ahead with the transmittal.
Prince was reportedly found unresponsive in an elevator in his Paisley Park home. The 911 call was made by an unidentified man, and representatives for the singer have not made any comment since his death this morning.