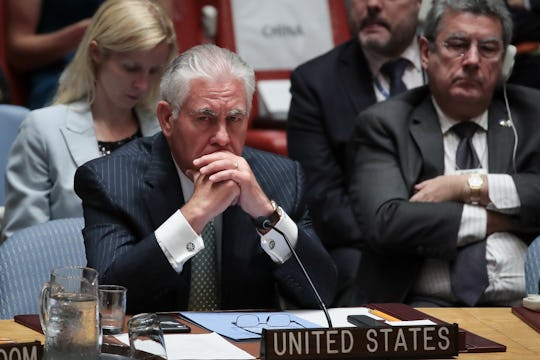 Drew Angerer/Getty Images News/Getty Images
Here Is Rex Tillerson's Full Response To His Alleged "Moron" Comment
Though the White House has largely insisted that Secretary of State Rex Tillerson and President Donald Trump are part of a united front, a new report by NBC News Wednesday morning suggested that rumors of an incredibly tense relationship between the two men are far from being just speculation. The news outlet reported Wednesday that Trump and Tillerson have had many "disputes and clashes" over policy, that Tillerson had referred to the president as a "moron" during a meeting at the Pentagon, and that he'd even considered resigning from his post over the summer. But Rex Tillerson's statement on his reported "moron" comment called the rumors "erroneously" reported. He said he would "not deal with petty stuff like that," though he never clearly issued a denial or refutation. He did say he'll be sticking with the administration indefinitely.
According to CBS News News, Tillerson spoke out Wednesday following the damning NBC News report, and while many were anticipating that the secretary of state could actually be announcing his resignation, it turned out that he instead chose to reaffirm his commitment to Trump, insisting in his speech that the two do, in fact, see eye-to-eye. Calling the NBC News report an "erroneously" reported story, Tillerson said he "never considered leaving this post," and went out of his way to praise the president and his approach to foreign policy.
Tillerson said specifically regarding the alleged "moron" comment, according to an ABC News video:
I'm not gonna deal with petty stuff like that. I mean this is what I don't understand about Washington. Again, I'm not from this place, but the places I come from, we don't deal with that kind of petty nonsense. And it is intended to do nothing but divide people, and I'm just not going to be part of this effort to divide this administration.
Despite Tillerson's seeming allegiance to the president, it certainly hasn't seemed like the relationship between the two men has been smooth sailing. Trump raised eyebrows Sunday, for example, when he tweeted about Tillerson's handling of the situation between the United States and North Korea, writing that "he is wasting his time trying to negotiate with Little Rocket Man." Trump then followed up with a second tweet, in which he wrote, "...Save your energy Rex, we'll do what has to be done!" Although Trump also referred to Tillerson as "wonderful," his tweets definitely seemed to be a dig, coming only a day after Tillerson told reporters that the United States had "lines of communications to Pyongyang," and that the country was "not in a dark situation."
According to Vanity Fair, rumors have been swirling for months that Tillerson's days in the Trump administration could be numbered, and that current United Nations ambassador Nikki Haley may be poised to take over his role. For now, Tillerson's resignation seems entirely off the table, but it wouldn't have exactly been an anomaly. Trump has, after all, seen a string of high-profile White House departures since his inauguration in January: he's lost his national security adviser, his deputy national security adviser, his chief of staff, his press secretary, his communications director, his chief strategist, his FBI director, and, most recently, his health and human services secretary following Tom Price's resignation.
What's more is that a Tillerson resignation seems like it would have made sense. Though Tillerson says he and Trump are on the same page, they have reportedly disagreed on a number of important issues in addition to North Korea, like the Persian Gulf-led blockade against Qatar, a United States ally, according to The Washington Post, and possible United States military involvement in Venezuela, according to CNN. And then there was also Tillerson's telling response to Trump's take on the Charlottesville protests in August: when asked by Fox News about Trump's much criticized statement following the rally, Tillerson said that "the president speaks for himself," according to Politico.
A Tillerson departure also likely wouldn't have been disappointing news for many critics of the Trump administration. According to The New York Times, Tillerson is said to have dropped the ball in regards to ensuring that the state department is sufficiently staffed, and his reported tendency towards "micromanagement" is said to have mean that day-to-day tasks are handled inefficiently. But more importantly, Tillerson is also regularly criticized for what appears to be his inability to make progress with diplomatic issues. And given that, on top of it all, he and the president also couldn't appear to publicly agree on the best course of action for important decisions? Well, the situation seemed pretty concerning to say the least.
As salacious as these behind-closed-doors stories seem though, the reality is that having so many rifts and tensions among high-level members of the Trump administration is a big deal — and is yet another reason why the general American public is feeling so frustrated. After all, these are the people making really important decisions that will affect the country and its role on the world stage. Not being able to even be on the same page with important policy issues is a major problem.
Even though Tillerson has adamantly denied a rift with Trump, the story seems in many ways to be just another iteration of the president's rocky tenure thus far. For now, Tillerson has made it clear that he is remaining supportive of Trump and his vision, and hopefully that will prove to be the right decision. But one thing that does seem pretty clear though? Regardless of the rumors, the White House needs to get its act together as soon as possible.