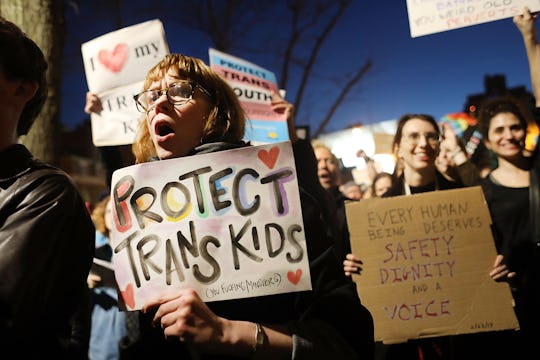 Spencer Platt/Getty Images News/Getty Images
Transgender Student Wins Court Battle In Wisconsin
There's finally some good news when it comes to transgender bathroom laws. After the current administration rolled back Obama-era Title IX protections for transgender students, it seemed like anyone wanting to use a bathroom that corresponded with their identifying gender would have no legal recourse. But a Wisconsin transgender student just won a court battle that will allow Ash Whitaker and other transgender students in the state to use the bathrooms that match their gender identities. It also means that other students fighting to use a bathroom that's safe for them will have a better chance in court.
The decision was unanimous from the U.S. Court of Appeals for the Seventh Circuit, which decides for Illinois, Indiana, and Wisconsin. The court wrote in its decision that "the School District has not demonstrated that it will suffer any harm from having to comply with the district court's preliminary injunction order," referencing a lower court's ruling that Whitaker should be able to use whatever bathroom corresponds with his gender identity, and not the gender listed on his birth certificate.
Ilona Turner, Whitaker's attorney told The New York Times that the ruling does only apply to her client at the moment. But it sets a precedent, and when it comes to the law, that's a very big deal. "This is just another building block on the large and growing number of courts to hold that discrimination against transgender people is illegal," Turner said.
Back in February, the Department of Justice rolled back transgender protections that the Obama administration put in place, with Jeff Sessions writing that the department would adhere to a "strict interpretation" of Title IX, meaning that discriminating against a transgender person wouldn't count as discrimination. In the Whitaker case, the Kenosha Unified School District argued that the court should either dismiss the case entirely or rule in their favor — before the Title IX protections were rolled back — since it believed the potential harm to all of the boys in the school district was greater than that of just one student.
But the judges weren't having it. They ruled that the potential harm to other students was merely speculative, whereas the harm to Whitaker was well documented in medical issues stemming from not being able to use a bathroom and also his alleged suicidal thoughts. The ruling applies only to Whitaker for now, but it does mean that other cases like Gavin Grimm's have a chance again.
Grimm's lawsuit against his Virginia school district made it all the way to the Supreme Court before it was forced to return it to a lower court after Trump's memo about rolling back Title IX protections for transgender students. But with Whitaker's win in the Seventh Circuit Court of Appeals, there's a better chance for Grimm and others who might bring suit against a school district in another state, to win their cases.
If anything, the Whitaker win shows, at the very least, that checks and balances are alive and well when it comes to facing an administration that threatens minority rights and protections.