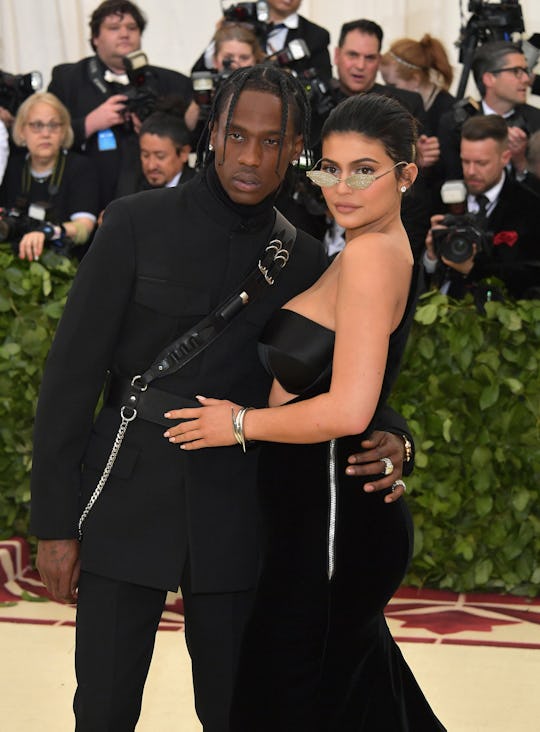 Neilson Barnard/Getty Images Entertainment/Getty Images
Travis Scott Shared A Rare Glimpse Of Baby Stormi & It's Proof He's Loving Dad Life — PHOTO
It's not often that Kylie Jenner's beau and father of her baby gives his fans a peek into his personal life on social media. But late on Tuesday night, Travis Scott shared a rare glimpse of Stormi, his baby daughter, on his Instagram Story. Though the photo didn't show the little girl's face, or his own, it did provide a subtle look inside the 26-year-old rapper's life as a new dad.
Scott's newest pic with little Stormi Webster doesn't reveal too much, showing just her adorably chubby baby legs and her wearing a pair of infant Nike sneakers, which seem to match her papa's kicks quite nicely. It looks like there are also some teething rings nearby, but it's the overlay caption on the photo that really says it all. Alongside the photo of Stormi sitting on his lap, the rapper simply wrote, "Gang." Because really, if your kid isn't in your gang, then who is?
What makes this photo even more interesting is that it comes mere days after Jenner responded to a fan's question about why she had cut Stormi's face out of a recent selfie and also revealed some pretty surprising news. "Yeah I cut my baby out. I'm not sharing photos of my girl right now," Jenner responded over the weekend, according to People. Since then, she's deleted any up-close shots of Stormi from her IG account.
Though it's a bummer for fans to hear, her decision to do so is actually quite understandable, if not a bit upsetting. For starters, the 20-year-old reality star has lived her entire life in the spotlight, starting with her family's hit reality show on E!, Keeping Up With The Kardashians. Since then, she's built her own beauty brand from the ground up and is very often dominating headlines, whether it's for her career or her personal life. So it certainly make sense that she'd perhaps want to give herself and her daughter a bit of privacy, especially when she's still so young.
As for her recent decision to keep Stormi out of her photos from now on, a source who spoke to People about the matter basically revealed that Jenner came to a realization that people online can really be, well, really awful and often say some very cruel things. According to People, the source said that even though she was incredibly private during her pregnancy, Jenner really "couldn't wait to show off Stormi to her fans." But, apparently, the trolls got to be a bit too much to handle and, according to People, Jenner decided that she didn't "want her daughter's pictures to be a part of something negative," the source told the publication.
So yes, Jenner is taking a break from sharing pics of her daughter's face, and it looks she and Scott might be on the same page when it comes to protecting their daughter's privacy, considering his new photo is just of Stormi's bottom half.
But his latest post might also suggest that he'll be sharing more photos in the future. After all, Scott himself has only posted one photo of Stormi on Instagram since she was born on Feb. 1. On March 3, Scott shared the below photo of his little girl with the caption, "Our little rager !!!!"
Who knows, maybe Jenner and Scott will share more photos of Stormi in the future. Or maybe they won't. It's up to them and what they're comfortable with, of course. But it's probably safe to say that fans were excited to see Scott's recent post of their little girl. Because seriously, how cute are those thighs and matching sneakers?