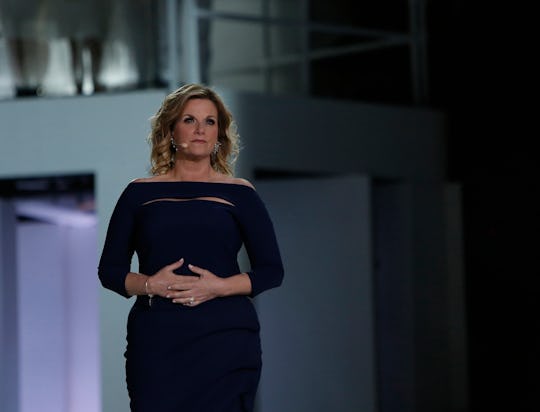 Steve Deitl/FOX
Trisha Yearwood Covers Whitney Houston's "My Love Is Your Love," & Makes Houston Fans Miss Her Again
In one of the first musical numbers in Fox's two-hour production, The Passion, Trisha Yearwood covered Whitney Houston's "My Love Is Your Love." The reactions from Twitter showed that viewers had mixed feelings about the performance: most thought Yearwood's rendition was powerful, though a few could only remember that the original singer, Houston, is no longer with us.
Set in modern-day New Orleans, the live production followed Jesus Christ (played by Jencarlos Canela) in his final days, including the last supper with his disciples, his public trial, and his crucifixion. Among the star-studded cast of The Passion was Prince Royce playing Jesus's best friend Peter, Chris Daughtry playing the infamous Judas, Seal as Pontius Pilate, and Yearwood in the role of Jesus's mother Mary. And, to go along with the more modern theme, the production featured an 18-song soundtrack with a mixture of pop and contemporary hits from artists including Creed, Evanescense, and Whitney Houston.
Just before Yearwood's opening performance, host and narrator Tyler Perry offered a brief recounting of Mary's virgin birth and the role that she played in her son's journey. And because the network aimed for The Passion to reach all viewers — religious or not — many online thought Yearwood covering the uplifting Houston hit "My Love Is Your Love" was a beautiful way to help introduce Mary in the network's retelling of the ancient story.
But for others, the casting of Yearwood as Mary — and performing a song made famous by Houston — was too much to take in a production of The Passion almost totally devoid of ethnic diversity.
Out of all the chatter online about Yearwood's performance, one thing was pretty clear: hearing "My Love Is Your Love" made lots of Houston fans mourn all over again.
Yearwood's incredible performance aired in the Fox broadcast of The Passion on Palm Sunday, March 20.