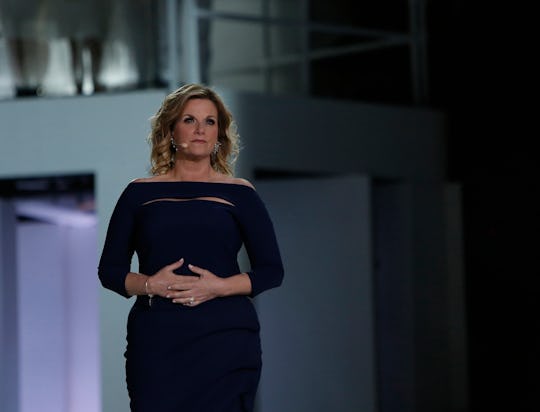 Steve Deitl/FOX
Trisha Yearwood's "Broken" Performance Was The Most Emotional Moment Of 'The Passion'
In one of the final performances of Fox's ambitious two-hour live musical following the last hours in the life of Jesus Christ, country singer Trisha Yearwood took on a song with a heavy spiritual message: "Broken." And even though the song wasn't explicitly about Christianity, Trisha Yearwood's "Broken" performance — delivered as part of Mary's final farewell to her son Jesus — was easily one of the most emotional and charged performances of the night.
Even though the central theme of the production certainly had a religious focus, The Passion was designed for all audiences, whether or not the consider themselves people of faith, according to Fox executives. And with that inclusive theme in mind, the 18-song soundtrack for The Passion was designed to be more secular than religious, featuring an eclectic mix of contemporary Christian and pop hits, Billboard magazine reported.
Yearwood, who played the role of Jesus's mother Mary, sang "Broken" in one of the final, powerful moments of the production. Jesus, played by Jencarlos Canela, had already been betrayed by his disciple Judas (Chris Daughtry) and delivered to Pontius Pilate (Seal) for undisclosed crimes. After host and narrator Tyler Perry described in vivid detail the manner of Jesus's crucifixion and death, it was up to Yearwood to transform the emotions Jesus's mother might have felt on saying goodbye to her son.
Since the live production didn't actually show Jesus's death on the cross, Yearwood stood alone beside the 20-foot illuminated cross carried by New Orleans residents through the city as part of the performance. Touching the cross, Yearwood delivered an incredible version of the song originally recorded by Lifehouse for their 2007 album, Who We Are. Many in the audience to lift their hands — and even Yearwood herself seemed a bit teary-eyed.
Fox aired The Passion on Palm Sunday, March 20.