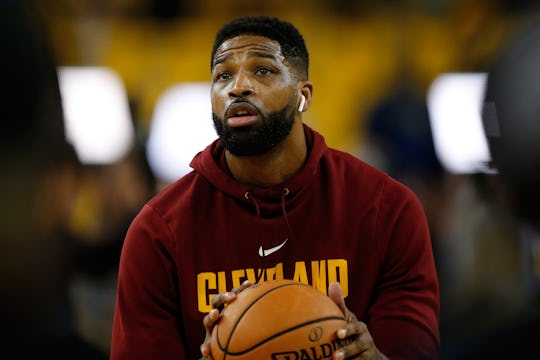 Lachlan Cunningham/Getty Images Sport/Getty Images
Tristan Thompson's Family Photo Is Everything You've Been Hoping To See
Tristan Thompson has had a bit of a time over the past few months. He's been hit with a pretty serious wave of internet criticism for his alleged treatment of Khloé Kardashian, his girlfriend and the mother of his little girl, True Thompson. But things could very well be looking up these days, if his latest Instagram post is anything to judge by. Tristan Thompson's family photo is pretty much exactly what everyone has been wanting to see, and it looks like a sign of happier times for the Cleveland Cavaliers player.
Thompson has been keeping a pretty low profile in the months since his second child, True, was born on April 12. In the days before she was born, he was caught up in an alleged cheating scandal that must have made life incredibly difficult for both him and Khloé at what should have been a truly happy time for them both. TMZ and The Daily Mail shared separate video footage and photos of Thompson allegedly getting pretty cozy with another woman. Neither Thompson nor Kardashian have ever confirmed the rumors. Thompson's and Kardashian's reps didn't immediately respond to Romper's request for comment, so it's tough to tell what really happened, of course.
Regardless, the new family is obviously moving on with their lives. And this sweet picture is evidence that they look pretty damn happy.
Thompson is sitting on the floor with his two children, 18-month-old son Prince from a previous relationship with Jordan Craig and 2-month-old daughter True. The picture looks like it was taken in Khloé's home theater room in Los Angeles, where the couple have been staying since Father's Day, according to Us Weekly. The proud dad captioned the picture with a simple heart emoji, and now everyone take a moment to notice that Prince and True are holding hands, please. Because that's the cutest thing I've seen in a long time.
Oh, unless you count this picture of Prince kissing his baby sister that Thompson also shared. Because that's terribly adorable as well.
This is the first time Thompson has posted a picture of his two children together, but we honestly should have seen it coming. After all, he did share a picture of the two nameplate necklaces with his kids' names on them last Sunday for Father's Day with the caption:
My Prince🤴and Princess 👸. I love you guys so much!!!
Prior to this amazing family photo, Thompson's son Prince has rarely been seen. Which is saying something when you consider he is linked to the Kardashian family. He lives with his mother, Instagram model Jordan Craig, and rarely shares pictures of her son on social media. And when she does share pics, they tend to be of her son's back or a shot of mother and son playing in the pool taken from a distance.
Internet folk tend to really like coming up with narratives based on a few pictures and a bunch of assumptions. Sure, we've never seen Tristan Thompson with his son before... but does that mean he hasn't been spending time with him? Does that mean that Khloé doesn't want him in their lives?
Doubtful. Fans of Keeping Up With The Kardashians know that the Revenge Body host is all about family, and especially the children in her family. It naturally follows that she would welcome a little boy who was not only the child of the man she's committed to, but also a sibling to her own precious little girl.
After what probably felt like a rough few months, it's nice to see a picture of their blended family just hanging out. Now if we could just get Khloé in the next shot, that would be amazing.