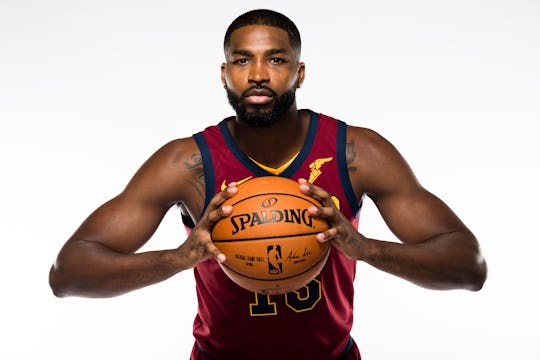 Jason Miller/Getty Images Sport/Getty Images
Tristan Thompson's Response To Khloe's Pregnancy Reveal Is Chill AF
Christmas came a little early for Kardashian fans when Khloé Kardashian confirmed her pregnancy on Instagram. The photo and accompanying caption will melt your heart, which shows Khloé and her boyfriend Tristan Thompson with their hands wrapped around her baby bump. However, Tristan Thompson's reaction to Khloé Kardashian's baby announcement is super subtle, but I think we can all agree it's still downright adorable.
It all began back in September when reports started churning out that Khloé was supposedly pregnant. Multiple sources swore up and down that she was with child and just keeping it under wraps. And so the baby watch began. Every photo she posted was analyzed. Every quote a member of the family said was picked apart. And don't even get me started on the Kardashian Christmas card teasers that sent the internet into a collective tailspin. Basically, the entire Kardashian fan base became professional detectives.
But now that it's been confirmed, I have to admit that I'm kind of glad it was done this way — on Khloé's terms. You can tell that she's beyond excited about the prospect of being a mother and made sure to mention Tristan in her very sweet Instagram message.
Khloé's caption read:
My greatest dream realized! We are having a baby! I had been waiting and wondering but God had a plan all along. He knew what He was doing. I simply had to trust in Him and be patient. I still at times can't believe that our love created life! Tristan, thank you for loving me the way that you do! Thank you for treating me like a Queen! Thank you for making me feel beautiful at all stages! Tristan, most of all, Thank you for making me a MOMMY!!! You have made this experience even more magical than I could have envisioned! I will never forget how wonderful you've been to me during this time! Thank you for making me so happy my love! Thank you to everyone for the love and positive vibes! I know we've been keeping this quiet but we wanted to enjoy this between our family and close friends as long as we could privately. To enjoy our first precious moments just us ❤️ Thank you all for understanding. I am so thankful, excited, nervous, eager, overjoyed and scared all in one! But it's the best bundle of feelings I've ever felt in my life!
That in itself is enough to make your heart melt. However, Tristan's initial response to it all — while extremely subtle — still conveys just how happy he is and how much he's looking forward to being a dad. So what did he do? Well, it's simple really. He liked Khloé's Instagram post.
But, soon after Tristan liked the post, he penned a super sweet message to Khloé, writing:
My love, Thank you for allowing be to be apart of your journey and entering your life that day at the bel air hotel. One of the best moments in my life. I'm soo happy to be on this journey together with you and creating this angel from the man above. Everyday I give thanks to him for bring us together. I love you soo much and I know our little angel feels the love we share together and will know that mommy and daddy loves them unconditional forever and ever amen. Btw, shoutout the brodie @brandonjennings for bringing this King and Queen together. Love my G
Cue the "awwwww!" I'm sure he'll have even more to say about the exciting news as time goes on, but in the meantime it's just enough to show his support. Plus, he's probably way too busy celebrating with Khloé to have time to post anything more right now. Which is not only fine, but also completely understandable. If there's any reason in the world to unplug, it's sharing time with your family — and his is about to grow in a very big way.
As the days go by, I imagine that countless celebrities will post messages of support and excitement for the happy couple. But what really matters is how they feel about it and they obviously couldn't be happier. Congratulations to the both of them as they prepare to take on the joys of parenthood!
Check out Romper's new video series, Romper's Doula Diaries:
Watch full episodes of Romper's Doula Diaries on Facebook Watch.