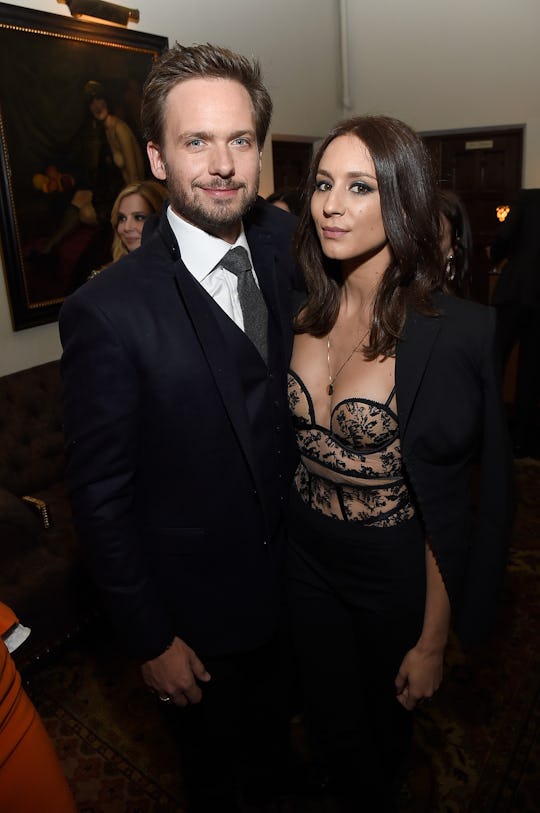 Matt Winkelmeyer/Getty Images Entertainment/Getty Images
Patrick J. Adams Penned A Touching Message To Announce The Birth Of His Baby Girl — PHOTO
Congratulations are in order! On Monday afternoon, new broke that Pretty Little Liars star Troian Bellisario and husband Patrick J. Adams welcomed their first child together — a baby girl! The new dad took to Instagram to share the news on Oct. 8, and Bellisario and Adams' first photo with their baby is a sweet tribute to the family of three.
While you can't see their newborn daughter's face in the photo, you can see her itty bitty ear, a glimpse of her hair, and her tiny hand tightly holding Adams' finger.
"The world just got 8lbs heavier," the 37-year-old Suits star announced on Monday on Instagram. "Thank you to everyone who fought for and protected our privacy during this incredible and beautiful time in our lives." Adams added in the same post that "everyone is happy and healthy and loving every moment of this."
The new dad concluded his announcement with a touching message to his new daughter, writing: "I could not be more excited to bring a baby girl into this world at this moment. We will raise her to be powerful, to always speak her mind and heart and to live without fear. It's a brand new day and a brave new world and they are both beautiful."
Bellisario also took to Instagram shortly after Adams announced the news to shared an equally sweet and inspiring message to her daughter, husband, and their fans for respecting their privacy. In a caption of the same photo that Adams posted, Bellisario wrote:
I cannot express how grateful I am. To the people who have protected us and kept our growing family safe and respected our privacy. To our tribe for expanding with grace and exponential amounts of love. To my @halfadams for being so supportive during every moment of my pregnancy and her birth. And to whatever incredible force of fate that brought this baby girl into our lives. I couldn't be more proud to be her mother. To bring a new girl into this world and to do my best to raise her to be kind, strong and whatever the heck she wants to be.
For fans of Bellisario and Adams, the new parents' Instagram posts were definitely cause for celebration. News of Bellisario's pregnancy first broke nearly two months ago in August, according to E! News, and neither explicitly confirmed the exciting news until today.
However, Bellisario's Pretty Little Liars' co-star Lucy Hale shared her excitement for the couple in an interview with Us Weekly over the summer. "I think we've all known for a bit," Hale told Us Weekly. "I'm really happy for her."
Still, neither Adams nor Bellisario confirmed the happy news until their baby girl was officially here — and fans couldn't be more thrilled for them.
"Congrats on parenthood! U guys are without a doubt going to be amazing role models and parents! Xo," one fan wrote on Adams' post.
Another excited follower write on Bellisario's post: "you're gonna be the best mum in the world. words can't even start to explain how lucky that baby is. she's got the most beautiful and talented and strong parents in the world. shes [sic] going to live an amazing life :)."
Adams and Bellisario have not revealed many details about their baby girl just yet, but it's already beyond clear that they're so in love with her.