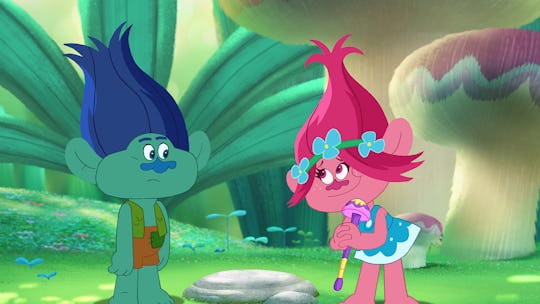 Netflix
This Is Not A Drill, 'Trolls: The Beat Goes On' Season 2 Is Coming A Lot Sooner Than You Think
Pillow fights. Rap battles. Glitter, glitter everywhere. No, it's not a sleepover party from the 90s, it's what's on tap for Trolls: The Beat Goes On Season 2 on Netflix. And it sounds like more fun than all of my recent Saturday nights combined; I mean, the name of the television series alone is enough to get kids excited, right?
After a hugely successful run with six episodes in Season 1, the animated series based on the colorful dolls is set to return next month. Netflix and DreamWorks Animation officially announced a premiere date for Season Two of Trolls for March 9, which means fans won't have to wait too long to get their fill of the pink-haired heroine Queen Poppy, Branch, and the entire Snack Pack as they whip up some shenanigans in Troll Village again.
This time around, it seems life is going to be pretty exciting for Poppy and her pals in Troll Village. Fans will remember that Poppy started out Season 1 inviting the Bergens, who had been at odds with the Trolls, to a big dance party. Of course her perpetually pessimistic boyfriend Branch had a word or two to say on the subject, none of it good. Fortunately, he was brought around by all of the glitter and the upbeat music and general spirit of merry-making.
In the new season of Trolls: The Beat Goes On, fans can expect the whole Troll gang to engage in "glitter-rific festivities and adventures, like taking part in the Annual Party Games, battling in an epic village-wide pillow fight, and rapping in an open mic compliment battle." Not to mention something wonderful called a compliment battle and teaching your children how to play pranks (might want to skip this one, I smell danger). Now if that can't keep your sweet little one engaged for 20 minutes or so, I'm not really sure what will do the trick.
One of the most popular elements of the Trolls franchise is, of course, the great music. Justin Timberlake got the ball rolling for the Trolls movie with the Oscar-nominated song "Can't Stop The Feeling!" The television series has managed to keep that trend alive with kid-friendly toe-tappers for Season 2, all of which will be available to download on iTunes as of March 16.
For now, songs like "Happily Ever After," "Best Day Ever," "Move Ya Body," and the theme song for Trolls: The Beat Goes On "Hair In The Air" are already available on the streaming service.
Kids will love the new season of Trolls: The Beat Goes On for more than just the sweet tunes, obviously. First of all, the wildly-coiffed and colorful crew are big fans of smiling and hugging, which isn't the worst thing a kid can want to emulate from their favorite show. This season is also expected to introduce new characters in ways that will help kids deal with their kid-sized problems in a way that's not hitting them over the head with it. Because let's face it; kids are just like us. They only like learning if it's done accidentally.
After the shockingly short first season of the Netflix series that saw just six 23-minute long episodes, fans will be happy to learn that this second season is set to release seven episodes. Not a whole lot, compared to the usual Netflix run of 13 episodes, but enough to keep kids engaged and happy for awhile at least. And maybe that's the trick; short, colorful, musical bursts of the Trolls to keep them from getting stale with the notoriously fickle younger set.
A few episodes here and there will keep them wanting more. And keep their parents happy at the same time. Brilliant.
Check out Romper's new video series, Bearing The Motherload, where disagreeing parents from different sides of an issue sit down with a mediator and talk about how to support (and not judge) each other's parenting perspectives. New episodes air Mondays on Facebook.