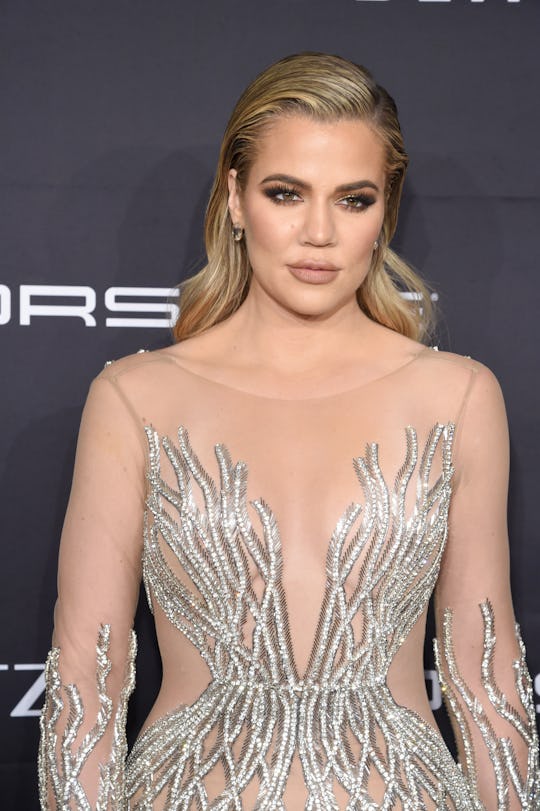 Jamie McCarthy/Getty Images Entertainment/Getty Images
The Rumor That True's Name Was A Response To The Cheating Allegations Is Probably False
Following four days of intense speculation, Khloé Kardashian took to Instagram on Monday to reveal her daughter's name — True Thompson. Of course, many fans had *thoughts* about the name and it's possible connection to the cheating allegations surrounding True's father, Tristan Thompson. (Thompson's and Kardashian's reps didn't immediately respond to Romper's request for comment.) From theories that "True" was chosen to confirm the infidelity rumors, to speculation that the name signifies hope for the baby's future, there are a lot of ideas out there. As it turns out, however, there's a good chance True Thompson's name wasn't a response to cheating rumors. Although this might be disappointing news to Keeping Up With The Kardashians conspiracy theorists, Kardashian reportedly picked out True's moniker before the scandal broke, according to TMZ. *Takes off tin foil hat*
Kardashian, as some of her most loyal fans probably already know, struggled to pick out a name for her daughter from the get-go. "I can barely decide what I want to eat. Let alone name a baby," Kardashian joked in late January about her naming dilemma, according Twitter.
So, when Kardashian announced to the world on Monday that she settled on the name True Thompson, many people were ecstatic for her. "Our little girl, True Thompson, has completely stolen our hearts and we are overwhelmed with LOVE," Kardashian penned in her exciting message, according to Instagram. "Such a blessing to welcome this angel into the family! Mommy and Daddy loooooove you True!"
Although most people were happy for Kardashian, others wondered if True was a dig at Thompson. "Did she name her baby True Thompson because rumors about Tristan cheating were.....true?" someone on Twitter asked.
Another person poked fun at the drama, writing: "Khloe Kardashian naming her baby True when her whole relationship with Tristan Thompson a lie but that ain't none of my business."
As for the more optimistic fans, they found True's name to signify hope for the future. True does mean "loyal" or "faithful," after all.
But before you pick a side on the supposed meaning behind True's name, you should probably consider TMZ's report on Wednesday that claims Kardashian supposedly picked out the moniker one month before she gave birth. Making matters even more compelling is that Kardashian reportedly didn't budge on the name post-cheating scandal. Translation: it's likely Kardashian didn't pick the name True in response to Thompson's alleged infidelity.
Of course, this bit of news should come as no surprise to fans who know that True was the name of Kris Jenner's grandfather. "True is a family name I'm so excited to welcome my precious little granddaughter True," Jenner explained via Instagram on Tuesday. "FUN FACT... my Grandfather's name on my Dad's side was True Otis Houghton....my Dad's name was Robert True Houghton...so i am so excited Khloe named her daughter True!!! #lovebug #familytradition #family @true." So, if True is a family name, it's even more unlikely that Kardashian came up with it in response to the cheating allegations.
As for True's last name, that's an entirely different story. TMZ claims there was some conflict surrounding whether Kardashian or Thompson would be listed on True's birth certificate, a dilemma that supposedly wasn't solved until Monday. A source told TMZ that Kardashian settled on Thompson as a last name because it was the "right thing to do." And once Kardashian made the call, she supposedly ordered monogrammed "T.T." cashmere baby blankets from an upscale store in Beverly Hills.
Unsurprisingly, there are people out there who are extremely upset that Kardashian chose Thompson's last name for True. But it goes without saying that people have no right to question how the baby's name came to be or when it was chosen. The only thing that should matter right now is Kardashian's happiness and comfort.
Check out Romper's new video series, Bearing The Motherload, where disagreeing parents from different sides of an issue sit down with a mediator and talk about how to support (and not judge) each other's parenting perspectives. New episodes air Mondays on Facebook.