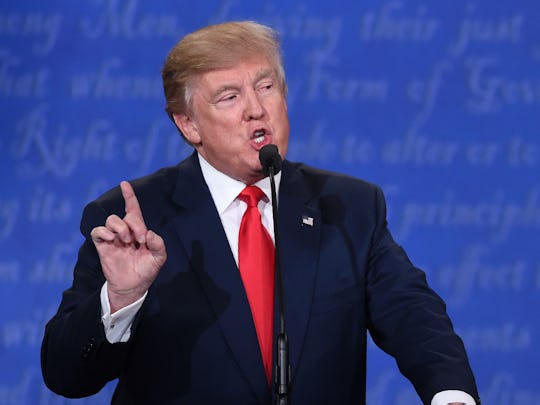 SAUL LOEB/AFP/Getty Images
Trump Blames Sexual Assault Allegations Against Him On Clinton
The final presidential debate was as heated as expected, especially when Republican presidential nominee Donald Trump's sexual assault allegations were mentioned. When addressing the allegations, he turned on his opponent, Democratic presidential nominee Hillary Clinton and pulled out an old trick — he blamed her. Yes, Trump blamed the sexual assault allegations against him on Clinton.
Shocked? Trump is known for tossing the blame around. CNN noted that Trump's rhetoric has become one of blaming others — everything is rigged, everything is broken, and everyone is a scapegoat for his claims. Sexual assault allegations apparently aren't left out of that mindset.
The New York Times reported that, in the final presidential debate, Trump claimed that all of the sexual assault allegations against him were "totally false" and that he didn't even apologize to his own wife because he had nothing to apologize for. After he absolved himself of his own non-existent guilt, Trump then accused Clinton of creating the sexual assault allegations as a way to smear his campaign. "She mentions this, which is all fiction, all fictionalized, probably or possibly started by her and her very sleazy campaign," he said.
Trump's thoughts on sexual assault allegations have not been great news for his campaign. As The Washington Post reported, Trump goes back and forth between whether allegations should be believed or not. Namely, if they involve him, they shouldn't, and if they involve Clinton's husband, former president Bill Clinton, they most definitely should be.
As difficult as it is to realize that a Republican presidential nominee is able to sweep sexual assault allegations against him away as campaign smearing, it follows Trump's usual rhetoric. Fox News noted that Trump has been adamant about the election being rigged, commenting on the media leaning towards Clinton, especially as story after story ran about Trump's sexual assault allegations.
The final presidential debate wasn't the first time Trump actually blamed the sexual assault allegations on Clinton. CNN reported that at a rally in Charlotte, Trump said, "I am a victim of one of the great political smear campaigns in the history of our country."
If all of the sexual assault allegations against Trump are the work of Clinton and her campaign, there's some sorcery afoot. The Huffington Post noted that Trump was accused of sexual misconduct before running for president and that the current allegations against him date back to the 1980s.
Clinton, as always, took the accusations in stride during the final presidential debate, but it's disheartening to hear that a man accused of sexual assault could not only consider himself a victim, but blame another person entirely for fabricating the rumors. And that man is running for President of the United States. For as often as he says he respects women, you'd think Trump would want to prove it.