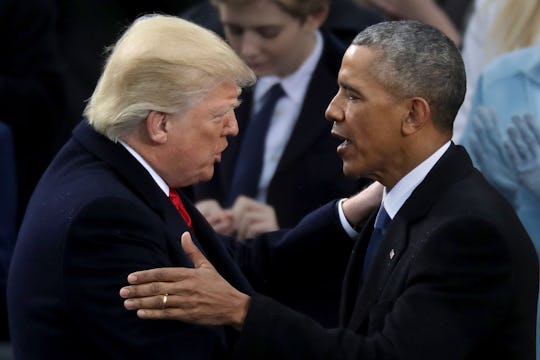 Chip Somodevilla/Getty Images News/Getty Images
Trump Claims Obama Tapped Trump Tower Phones
President Donald Trump is famous for his Twitter rants. Whether he's calling out Alec Baldwin for his eerily accurate Trump impersonation on Saturday Night Live, attacking "over-rated" actress Meryl Streep, or going after basically anyone who disagrees with him, the President's love for the immediate gratification of a tweet knows no bounds. Perhaps because tweets do not require evidence. His latest rant about President Obama crossed a line, though. Trump claimed that Obama tapped phones in Trump Tower through a series of angry tweets on Saturday morning, yet provided no evidence.
Romper has reached out to the White House and President Obama and is awaiting a response.
Trump asserted in his tweets, which first started to appear before seven in the morning, that President Obama had his "wires" tapped illegally in Trump Tower during the 2016 presidential election. The tweets came after a particularly bad week of publicity for the Trump administration; Attorney General Jeff Sessions had to recuse himself from ongoing investigations into the potential Russian involvement in the 2016 election. Sessions had met with Russian ambassador to the U.S. Sergey Kislyak twice last year while acting as a Trump surrogate and did not disclose those meetings during direct questioning at his Senate confirmation hearing, according to The Huffington Post. Trump took to Twitter to defend Sessions on Friday, writing "Jess Sessions is an honest man." And then the next morning he appeared to wake with the dawn with a renewed furor against President Obama, claiming he had tapped his phones in Trump Tower and reportedly "found nothing."
These are incredibly serious allegations, yet Trump did not cite one ounce of evidence in his tweets. He used strong language, even went so far as to compare the alleged wiretapping to the Seventies-era Watergate scandal that eventually saw President Nixon impeached. Since Trump was clearly using the series of tweets to get a reaction from social media (and perhaps to take some of the heat off the embattled Attorney General), what did the internet have to say about Trump's accusations?
Of course, there were some who immediately believed the president and began calling for Obama's arrest. Facts and evidence be damned.
Others were more skeptical, not only of Trump's claims but his potential motives.
Trump could have evidence that Obama did, indeed, tap his phones. But he doesn't seem to be in any rush to share that evidence and appears happy enough simply working the country up in a lather over his accusations while he enjoys yet another weekend holiday at Mar-a-Lago (which Trump refers to as the "winter White House" but is actually just his vacation home in Palm Beach, Fla.). Until evidence has been provided, Trump's claims should be treated as petty accusations and nothing more.
Update from President Obama's spokesperson Kevin Lewis: Lewis released a statement on Saturday afternoon for President Obama refuting President Trump's claims that the White House wiretapped Trump Tower.
The statement read:
A cardinal rule of the Obama administration was that no White House official ever interfered with any independent investigation led by the Department of Justice. As part of that practice, neither President Obama nor any White House official ever ordered surveillance on any U.S. citizen. Any suggestion otherwise is simply false.