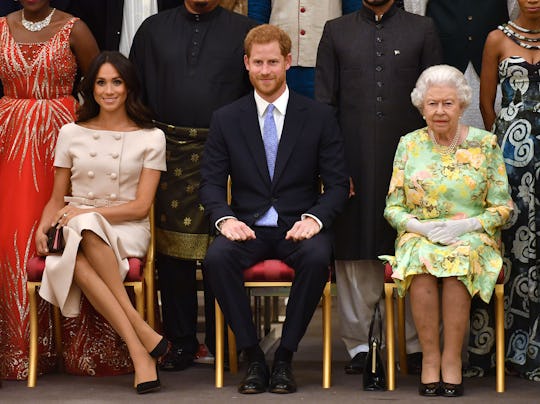 WPA Pool/Getty Images News/Getty Images
Trump Is Expected To Meet Queen Elizabeth & It Could Be Awkward For Meghan Markle
It's finally about to happen, folks. President Trump is expected to meet Queen Elizabeth in July, as People reported. Try to wrap your head around that one. I know I'm struggling to picture what that meeting will look like; England's longest reigning monarch meeting the newest American president. It should be interesting, to say the least.
While neither Downing Street nor the White House have confirmed the upcoming visit yet and Romper's request for comment on the reported meeting was not immediately returned, American ambassador to Great Britain Robert Wood Johnson told Sky News that Trump is scheduled to set down on Britain for a working visit from July 12 to July 14. This will mark the first time President Trump has set foot in Great Britain since he was elected in 2016, according to The Independent. And of course, Johnson explained to Sky News that meeting the queen would be an important part of his visit. "I mean, he has to see the head of state. Putting his foot on British soil, it's job one, it's very important, very symbolic," he told Sky News. "Meeting Her Majesty is the most important thing, because she's the head of state, and from then on, it'll be what the president wants to do."
Johnson also reported that Trump is expected to be meeting with the queen on July 13 at Windsor Castle, according to People, where the Duke and Duchess of Sussex were recently married, rather than a full state visit to Buckingham Palace. Windsor Castle is closed on July 13, according to its website, which seems to confirm this news.
President Trump has not exactly been a popular figure in Great Britain since his election; in fact, a petition started in the early days of his presidency asking Parliament to prevent him from receiving a full state visit racked up more than 1.8 million signatures before it was shut down by the incoming government. Parliament even debated the topic in February 2017. While the petition didn't quite ask for Trump to be banned from the country, according to the Parliament website, it did note:
Donald Trump should be allowed to enter the UK in his capacity as head of the US Government, but he should not be invited to make an official State Visit because it would cause embarrassment to Her Majesty the Queen.
President Trump might finally get his chance to meet the queen, but will he be meeting any other members of the royal family? At least one of those members has been pretty vocal with her criticism of the president in the past... the Duchess of Sussex, Meghan Markle.
In a 2016 interview with Larry Wilmore on The Nightly Show, the former Suits actress made it clear how she felt about the then-Republican presidential candidate. According to The Daily Beast, she said at the time:
Yes of course Trump is divisive. Think about just female voters alone. I think it was in 2012, the Republican Party lost the female vote by 12 points. That's a huge number and with someone as misogynistic as Trump is and so vocal about it, that's a huge chunk of it. You're not just voting for a woman if it's Hillary because she's a woman, but certainly because Trump has made it easy to see that you don't really want that kind of world that he's painting for us.
Of course, Markle said those words in the days before she was a member of the British monarchy. It stands to reason that, if she does happen to be included in President Trump's reported meeting with Queen Elizabeth, she would be impeccably polite. And the likelihood of her being included in, say, a dinner with the president is pretty strong, considering she is a fellow American by birth.
All I can say is this: what I would give to be a fly on the wall at that meeting. I'm picturing all stiff politeness and awkward smiles. Sort of glorious.