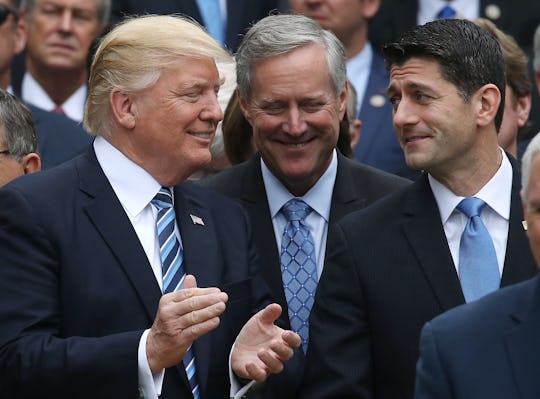 Mark Wilson/Getty Images News/Getty Images
Trump Is Now Claiming The GOP Health Care Bill Is "Mean"
Oh, what a long road the GOP has traveled since the glorious, jubilant, beer-swigging days in the Rose Garden. After House Republicans passed the American Health Care Act, a replacement to the Affordable Care Act, in May, President Donald Trump reigned triumphant. He hastily postponed plans in New York to stand shoulder-to-shoulder with his fellow Republicans and celebrate what he clearly believed to be a decisive victory. These days, it seems as though the wind is blowing in another direction. Trump is now claiming the GOP health care bill is "mean," according to sources, and believes it is difficult to defend. So what could be behind this shift? An attack of conscience, a drop in the polls, or something else?
According to Politico, Trump reportedly sat down to lunch at the White House with Republican senators on Tuesday, hoping to encourage them to craft a more proportioned health care bill than the AHCA. The president reportedly referred to the AHCA as "mean" and indefensible, and wanted to see a bill that would not be seen as a direct attack against low-income Americans. Which is an interesting about-face from his speech in the Rose Garden on May 4, when he praised the AHCA as being "very well-crafted."
(Romper has reached out to the White House for comment on the report and is awaiting a response.)
What a difference a few weeks can make. Despite his effusive, unconditional, avid support of the AHCA, which was largely steamrolled through by Speaker of the House Paul Ryan, Trump has seemingly turned a corner. Multiple sources, including Republican Sen. Rob Portman of Ohio, said the president has asked Senate Republicans to consider tax benefits for people buying their insurance on individual markets. One source told the Associated Press that Trump said:
We need to be more generous, more kind.
While Portman told Politico:
He talked about the need to take care of people.
Which would be beautifully touching, if Trump hadn't already thrown the full weight of the White House behind not one, but two attempts at passing the AHCA.
Trump supporters will undoubtedly see his "change of heart" as a positive step in the right direction. After all, the AHCA has proven to be wildly unpopular at almost every corner, particularly after the addition of the MacArthur Amendment (which would effectively allow states to opt out of Obama-era protections that banned insurance providers from charging people with pre-existing conditions higher premiums for health care coverage).
But in reality, Trump's "change of heart" could be speaking to something infinitely darker. Not only has he proven time and again to be woefully ill-informed about the health care bill, but his changeable opinion when faced with a drop in celebrity status is worth serious consideration by every American. He supported a bill he didn't seem to know much about in public, and wholeheartedly. Now perhaps he has given the situation a Google or two, thought better of it, and — despite being president of the United States, arguably the most considered and serious position in the country — gave a massive health care bill a flippant thumbs down, apparently unconcerned that he had supported the bill with thumbs up and glad handing and happy beers and selfies at the White House just weeks earlier.
Apparently unrepentant. And that's something everyone should be worried about.