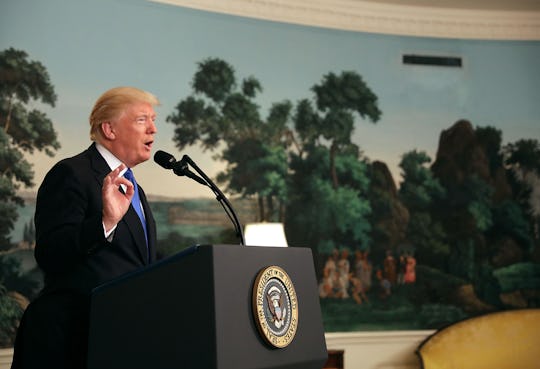 Chip Somodevilla/Getty Images News/Getty Images
Trump Is Reportedly Being Investigated For Obstruction
According to anonymous Washington D.C. officials who spoke with The Washington Post this week, President Donald Trump is reportedly being investigated for possible obstruction of justice, which changes the entire tune of the FBI's months-long investigation into the Trump campaign's possible ties with Russia. For almost the past year, the FBI was investigating Trump's campaign for any interactions with Russia during the 2016 election. But after the president fired then-FBI Director James Comey in early May, the investigation reportedly took a sharp turn.
According to this most recent report, the FBI is investigating Trump not just for obstruction of justice, but also financial crimes possibly committed by his associates. Romper's request for comment from the Department of Justice was not immediately returned.
According to The Post's anonymous sources, who are reportedly close to the investigation, special counsel Robert Mueller asked Daniel Coats, the current director of national intelligence; Adm. Mike Rogers, head of the National Security Agency; and Rogers' deputy, Richard Ledgett, to come in for questioning this week. According to The Post, the investigation might be even broader than just those three men, as it is "cloaked in secrecy."
This news does complicate things for the administration, if true. Leading up to Comey's testimony last week, it seemed as though Trump wasn't under investigation personally. In fact, during his testimony in front of the Senate Intelligence Committee, Comey said he had assured the president as much in private conversations outlined in his opening statement.
But Comey's testimony last week might have also had something to do with the change in focus of the special counsel's investigation, since Comey told the Senate committee that he believes he was fired by the president as a way to undermine the FBI's investigation into any Russia connections.
Meanwhile, one of Trump's friends, Christopher Ruddy, the chief executive of Newsmax Media, said on PBS Newshour this weekend that Trump is "weighing the option" of firing special counsel Robert Mueller. Take that with a pinch of salt, though, since the White House immediately responded to the news with surprise.
Press Secretary Sean Spicer said, "Mr. Ruddy never spoke to the president regarding this issue. With respect to this subject, only the president or his attorneys are authorized to comment." If Trump was planning on it and confided in a friend, the new report that he is allegedly under investigation for obstructing justice might change that.
Hopefully, everyone called in to testify or answer questions will comply without too much back and forth so that the Department of Justice and the Senate Intelligence Committee can wrap up the investigations as quickly as possible.
According to Comey, Trump called the investigation "the cloud" that's hovering over his administration, but it's also hanging over the country. The sooner Americans know what was going on, the sooner legislators can get busy bringing the country back together.