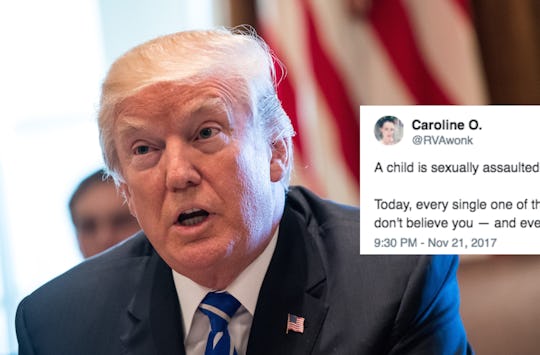 Pool/Getty Images News/Getty Images
This Tweet About Child Sexual Abuse Shows The Damage Trump Is Doing To Kids Everywhere
On Tuesday, President Donald Trump threw his support behind Republican Alabama Senate candidate Roy Moore, suggesting the politician and alleged child sex predator will be tougher on crime than his Democratic opponent. Trump's endorsement is not only controversial for his choice of candidate, but also because of the comments he made in regard to the allegations of child sexual assault levied against Moore. And there's one tweet about child sexual abuse that shows the damage Trump is doing to kids everywhere.
Trump told reporters that, next month, voters must elect Moore over opponent Doug Jones because "we don't need a liberal person" in the Alabama senate who is "terrible on crime," according to NBC News. But when he was pressed by reporters over the sexual misconduct allegations, Trump said he believed Moore, who has denied the accusations of assault by nine separate women. (Moore did not respond to Romper's request for comment at the time of publication.)
The president said of Moore, according to NBC News,
He totally denies it. He says it didn't happen. And you know, you have to listen to him also. And I do have to say 40 years is a long time. He's run eight races and this has never come up, so 40 years is a long time.
Trump's comments are slap in the face to survivors of childhood sexual abuse, as noted by Twitter user, @RVAwonk. RVAwonk wrote in the now-viral tweet,
A child is sexually assaulted every 8 minutes in America. Today, every single one of them heard their president say: "I don't believe you — and even if I do believe you, I don't care."
According to the National Center for Victims of Crime, one in five girls and one in 20 boys will be a victim of child sexual abuse. In addition, 16 percent of youth ages 14 to 17 have been sexually victimized in a one-year period in the United States, while 28 percent have been harmed over their lifetime, the center reported. As ThinkProgress reported, the women who have come forward said Moore had initiated inappropriate sexual contact when they were teenagers. One women was 14 years old when she was allegedly victimized by Moore.
It tokes a lot of courage for a victim of sexual assault to come forward. Survivors are often not believed when they tell people they've been sexually abused or assaulted, so they will stay quiet for years or decades. That doesn't mean their revelations are any less true.
But that's what Trump implies with his "40 years is a long time" comment. With those five words, the president is saying that the people who come forward about Moore's sexual misconduct have hidden agendas.
That's not how it works, though. Research has shown that survivors refuse to come forward because of self-blame, shame, fear, shock, and to protect their families. And, as La Casa Center wrote, many of the offenders are in a position of power or are considered pillars of the community — such as in the case of Jerry Sandusky, who was convicted of 45 counts of childhood sexual abuse. When the abuser is someone like Sandusky or Moore, who are admired widely by the public, the victims and alleged victims are far less likely to be believed.
But none of those truths seem to matter to Trump, who would rather have an alleged child sex predator in a state Senate than Jones, a person who successfully prosecuted two Klansmen for the Birmingham church bombing that killed four young black girls in 1963. Trump, of course, has also had allegations of sexual misconduct levied against him (all of which he's denied), so there's also the question of whether his endorsement of Moore is a bit personal.
Whatever his reasoning, the president told every child sexual abuse victim, especially those who still haven't been able to come forward, that he doesn't stand with them — that he stands with predators instead. And now more survivors will surely retreat to the shadows.