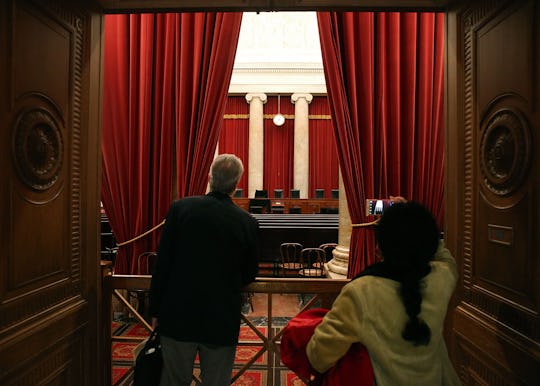 Mark Wilson/Getty Images News/Getty Images
Trump Nominates Neil Gorsuch For The Supreme Court
Do you all remember Merrick Garland? He was the Washington appeals court judge who former President Barack Obama had slated for a Supreme Court nomination after the death of Justice Antonin Scalia. He was considered a moderate, middle-of-the-road judge, well-liked and respected by both Republicans and Democrats. Unfortunately, Congressional Republicans refused to even consider him. They wanted to wait out the election ... and it seems as though they got their wish. Because there's a new president in town, and he's not looking at Garland. No, in a live address on Tuesday, President Donald Trump nominated Neil Gorsuch for the Supreme Court vacancy, and his choice has several implications.
Trump never made his priorities a secret when looking for a new judge to sit on the Supreme Court bench; During a debate against former Democratic nominee and Secretary of State Hillary Clinton in October, Trump said:
The justices that I'm going to appoint will be pro-life. They will have a conservative bent. They will be protecting the Second Amendment. They are great scholars in all cases, and they're people of tremendous respect. They will interpret the Constitution the way the founders wanted it interpreted. And I believe that's very, very important.
After whittling the list of potentials down from 21 names, two candidates were reportedly brought to Washington before Tuesday's announcement by the White House; Colorado Circuit Court Judge Neil Gorsuch and Pennsylvania Circuit Court Judge Thomas Hardiman. In the end, Gorsuch managed to win over Trump's favor to take the seat.
Neil Gorsuch has been serving on the 10th Circuit Court of Appeals in Colorado since he was appointed by former President George W. Bush in 2006. He is considered the best choice to follow in Scalia's footsteps and to take over the ninth seat on the Supreme Court, which could be considered a swing vote. Chief Justices John Roberts, Clarence Thomas, and Samuel Alito are considered more conservative, while Justices Ruth Bader Ginsburg, Sonia Sotomayor, Elena Kagan and Stephen Breyer are more liberal. Currently, Justice Anthony Kennedy is considered a moderate, and influence over his vote could make all the difference in the world. According to Jeffrey Rosen of the National Constitution Center:
The real appeal of Gorsuch nomination is he's likely to be the most effective conservative nominee in terms of winning over Anthony Kennedy and forging conservative decisions on the court. He's unusual for his memorable writing style, the depth of his reading and his willingness to rethink constitutional principles from the ground up. Like Justice Scalia, he sometimes reaches results that favor liberals when he thinks the history or text of the Constitution or the law require it, especially in areas like criminal law or the rights of religious minorities, but unlike Scalia he's less willing to defer to regulations and might be more willing to second-guess Trump's regulatory decision.
Gorsuch is also the son of Anne Burford Gorsuch, former head of the EPA during the Reagan administration. She was forced to resign in 1983 due to a criminal investigation, but was never charged.
While Gorsuch might feel like celebrating tonight, I wouldn't open the bubbly quite yet; Congressional Democrats have vowed to filibuster Trump's choice for SCOTUS. Which could mean many more months of a vacant seat. (Meanwhile, Merrick Garland's hopes were quietly dashed by an obstinate group of politicians months ago, just as a reminder.)
Whatever happens next, for both Gorsuch and the American people, it's going to be a long, exhausting ordeal for us all.