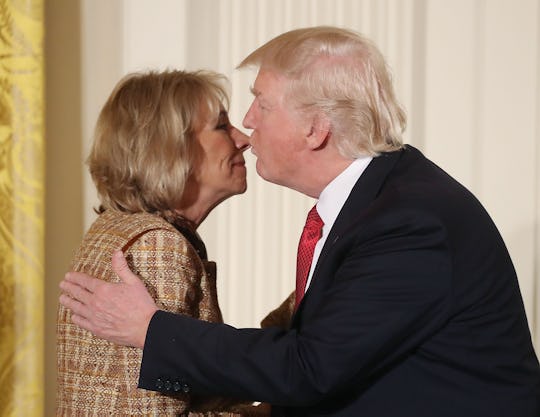 Mark Wilson/Getty Images News/Getty Images
Betsy DeVos Uses Government Power To Limit Government Power
In an effort to make good on as many campaign promises as possible within the first 100 days, President Trump ordered Betsy DeVos to review school systems nationwide on Tuesday, in order to assess where the Department of Education can reduce the role of the federal government in K-12 education. The executive order doesn't necessarily give DeVos more permanent power, since she already has a ton of broad power as the head of the department, but it gives her 300 days (why can't they just use months to make deadlines?) and extended authority to have her department conduct a study and find any regulations that govern K-12 schools and see if they appear inconsistent with federal law. According to The Washington Post, Robert Eitel, who once worked a for-profit college and is one of DeVos' senior aides, will lead the task force.
Trump said after signing the order:
Previous administrations have wrongfully forced states and schools to comply with federal whims and dictate what our kids are taught. But we know that local communities do it best and know it best.
Although he didn't mention any regulation or guidance by name, the order pretty much takes aim at many Obama-era regulations, like Common Core standards and the Every Student Succeeds Act, which was passed in 2015. That act, known as ESSA, actually does give states a lot more power in overseeing education, but this administration really wants the federal government to have as little power as possible, though in her confirmation, DeVos said that she would keep federal accountability regulations under ESSA.
DeVos' study could theoretically also take aim at some of the civil rights-oriented orders Obama's administration put in place (which were met with complaints of federal overreach), like advising schools to allow transgender students to use whatever bathroom they identify. As secretary, DeVos can make whatever changes she wants to with an executive order and without consulting with Congress, which is something some of her supporters are excited to see in action.
Jeanne Allen, a lobbyist for vouchers and charter schools, said that Trump's order and the ensuing study will bring "welcome attention to a much-overlooked problem of behavior that has festered through all administrations." Another official told The New York Post:
With this executive order, President Trump has reaffirmed his commitment to getting the federal government out of the way and returning control over education back where it belongs at the state and local level.
DeVos hasn't been explicit about federal regulations she has issues with, but she is a proponent of "school choice" and giving school districts and parents as much power as possible. Hopefully the task force knows what it's doing and the quality of education gets better for American students — and not worse.