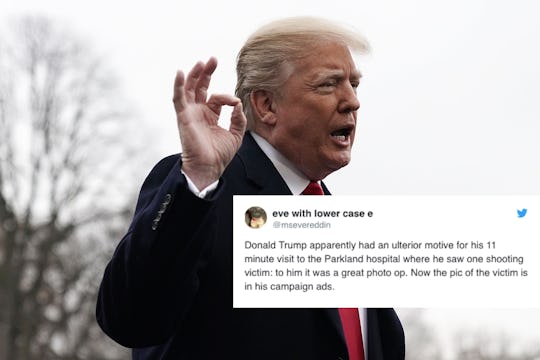 Alex Wong/Getty Images News/Getty Images
Trump Reportedly Used A Parkland Survivor's Photo To Ask For Campaign Donations, & People Are Livid
In an email sent to supporters promoting his reelection campaign and asking for donations, Trump reportedly used a photo of himself visiting a survivor of the Parkland shooting in the hospital — and the move is unsurprisingly drawing some criticism. Madeleine Wilford, 17, survived the tragic Feb. 14 shooting at Marjory Stoneman Douglas High School in Parkland, Florida, which left 17 innocent people dead. Two days after the attack, Donald and Melania Trump visited her in the hospital, according to CNN.
In the photo, Trump is touching Wilford's arm as she lays in a hospital bed. Wilford's family stands beside her, and Melania stands beside her husband. The outlet noted that the photo was taken on Feb. 16, two days after the attack.
"The nation has turned its attention to the senseless school shooting in Parkland, Florida," the email reads, as per CNN. "Trump is taking steps toward banning gun bump stocks and strengthening background checks for gun purchasers ... The President has made his intent very clear: 'making our schools and our children safer will be our top priority.'" There is reportedly a link to donate to Trump's reelection campaign at the bottom of the email.
Wilford was reportedly shot four times, according to the Daily Mail. In a press conference on Monday, Feb. 26, she seemed to have been healing well, and she expressed gratitude to just be alive. Many people wondered if Wilford gave Trump permission to use the photo for his campaign. She has yet to make a statement on the matter, and she could not be reached for comment.
Many people took to Twitter to criticize the email for taking advantage of a photo op and for exploiting a tragedy in order to crowdfund.
Additionally, Morgan Williams, a junior at Marjory Stoneman Douglas High School, tweeted her harsh criticism of the president's use of the photo.
"Don't you f*cking dare use a photo of one of my best friends for your benefit," Williams wrote on Twitter. "If you truly cared, maybe you would have stayed at the hospital longer than 20 minutes."
And Alyssa Mastromonaco, former White House staffer for Barack Obama, further emphasized why using the photo was wrong.
She pointed out that Trump's campaign funds will be used to support the NRA, whose leaders are doing everything they can do prevent the United States from implementing stricter gun safety laws.
Trump first shared the photo on Instagram the day it was taken, just two days after the mass shooting. He captioned the photo (and a slew of others from his curiously smile-filled hospital visit) with a message about mental health. The caption read:
Our entire Nation, with one heavy heart, continues to pray for the victims and their families in Parkland, Florida. To teachers, law enforcement, first responders and medical professionals who responded so bravely in the face of danger: We THANK YOU for your courage — and we are here for you, ALWAYS! Our administration is working closely with local authorities to investigate the shooting and learn everything we can. We are committed to working with state and local leaders to help secure our schools, and tackle the difficult issue of mental health. God Bless You All — and THANK YOU!
Trump has repeatedly blamed the Parkland shooting on mental illness, in what appears to be an effort to place the blame on something — anything! — other than America's detrimentally weak gun safety laws. Many critics have said it's a clear attempt to distract the nation from discussing gun safety. Here's hoping Trump's days of avoiding the issue of gun safety will soon be in the past, and that some real change will happen soon.