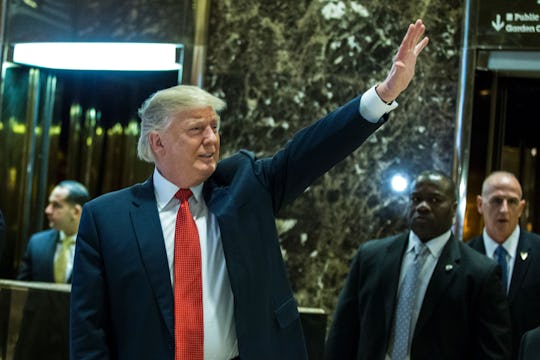 EDUARDO MUNOZ ALVAREZ/AFP/Getty Images
Trump Says He'll Put "America First", But It's Probably A Poor Choice Of Words
President-elect Donald Trump is currently on his "Thank You" tour, giving speeches across the nation to show his gratitude to supporters who voted for him and to reiterate some of his campaign promises. At one of these rallies on Tuesday night, Trump told supporters he'll put "America first" as president over the next four (or eight) years, putting repeated emphasis on the phrase "America first." But while patriotic on the surface, it's actually a poor choice of words for a few reasons.
According to Susan Dunn, a professor of Humanities at Williams College, once upon a time, there actually was an America First movement; In an op-ed for CNN, Dunn wrote that the movement, first founded in 1940, was formed to try to convince the American government to appease Adolf Hitler and his rule over Germany during World War II.
The America First Committee began at Yale University with Douglas Stuart Jr. and then-future President Gerald Ford, who were organizing students and writing a petition that demanded Congress refrain from entering the war, "Even if England is on the verge of defeat."
The America First Committee eventually grew to over a million members, with chapters popping up all over the place, but it struggled to earn acceptance with mainstream media because of some of its members' anti-Semitic sympathies. One member, Avery Brundage, the former chairman of the U.S. Olympic Committee, reportedly even prevented two Jewish runners from joining the United States' track team in the 1936 Berlin Olympics.
Luckily, no one on an Olympic committee has since barred participation from anyone due to their race or religion. But Trump has been endorsed by the "alt-right," which is a group made up of white nationalists and white supremacists (if there is even much of a difference). He also appointed Breitbart News' Steve Bannon — a man who has said racist, homophobic, and isolationist things (whether he realized it or not) in the past — as his chief strategist, and there are many in the mainstream who worry that Trump's administration will be guided by some of those principles. Despite the fact that he may mean well, there are many strange similarities to president-elect's "America First" movement and the original America First Committee.
It's understandable that some people might be nervous, especially when Trump says things on the "thank you tour" trail like,
My foreign policy will always put the interests of the American people, and American security, above all else. That will be the foundation of every decision that I will make. America First will be the major and overriding theme of my administration.
The original America First didn't have a great history of being inclusive or wanting the country to have a presence in global affairs, even though inclusivity, freedom, and spreading democratic ideals has drive much of American policy (domestic and foreign) since WWII. It's something that Trump, as a president-elect who has boasted he'll "make America great again," should probably worry about.
It's possible that Trump just doesn't know the history of what America First means. The President-elect has said since his election that he wants to unify the country, so perhaps he is just attempting to appeal to the patriotism of voters on both sides of aisle and doesn't mean that Americans should put "America First" in a nationalist, anti-Semitic (or racist, or Islamaphobic, or homophobic) way.
If that's the case — and let's really, really hope it is — then Trump should start changing the language he's using on this "Thank You" tour and really focus on unifying the country. Because so far, he's hit a few snags.