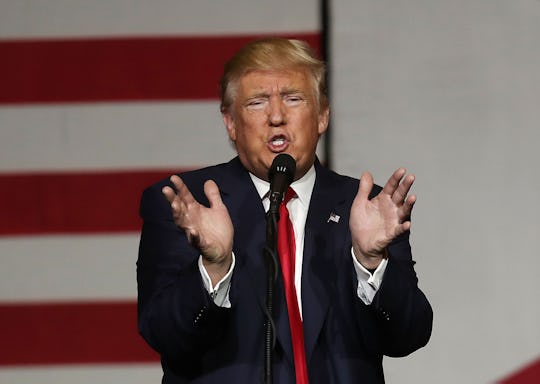 Joe Raedle/Getty Images News/Getty Images
Trump Says 'Look At Her' In Response To 'People' Reporter, But It's Not The First Time
Despite the fact that every voter in the United States has likely heard Donald Trump jovially brag about allegedly kissing and groping women without their consent, the Republican presidential nominee maintains that he has never actually done any such thing. He's continued to deny that the gross banter heard on a 2005 recording of a would-be private conversation that leaked last week represents anything other than abstract "locker room talk" — even after former People magazine reporter Natasha Stoynoff, as well as a slew of other women, have emerged with accounts of him reportedly advancing on them sexually in much the same way as what he he describes in the now-notorious recording. But in reiterating his supposed innocence Thursday, Trump said "Look at her" in response to the People reporter's story, a disparaging comment about her looks that again revealed how little he really does respect women.
"Take a look. You take a look. Look at her. And look at her words," Trump said of Stoynoff at at rally in West Palm Beach, Florida. "And you tell me what you think. I don't think so. I don't think so."
In an unsettling (but not shocking) first-person essay published in People magazine Wednesday, Stoynoff, recounts how Trump had allegedly cornered in a room at his Mar-a-Lago estate, where she had traveled to report a feature about his one-year wedding anniversary in 2005.
"We walked into that room alone, and Trump shut the door behind us," she wrote. "I turned around, and within seconds he was pushing me against the wall and forcing his tongue down my throat."
Romper reached out to the Trump campaign for comment but has not heard back. People noted that Trump denied the allegations prior to publication.
Stoynoff's story is uncannily similar to those of two women whose alleged experiences The New York Times reported the same day: One alleged that Trump had grabbed her breast and tried to put his hands up her skirt on a flight more than three decades ago; The other was a 22-year-old receptionist working in Trump Tower in 2005 when she introduced herself to him — and he allegedly kissed her on the lips. It's not unlike the account of Mindy McGillivray, who told The Palm Beach Post for a story also published Wednesday that Trump had groped her backside while she worked an event at Mar-a-Lago in 2003.
But Stoynoff's account (and that of the other accusers) perhaps most disturbingly mirrors Trump's own words. "You know I'm automatically attracted to beautiful — I just start kissing them," he said in the 2005 tape. "It's like a magnet. Just kiss. I don't even wait."
And Trump's repugnant "look at her" defense is a prime example of just how warped his view of women and their bodily autonomy is. Instead of insisting that he did not attack the reporter once assigned to the Trump beat because sexual assault is wrong and that women are people entitled to all of the control over their bodies as men have over theirs, Trump insinuated that he would not have assaulted her because her appearance may not have been up to his standards. By encouraging the crowd at his rally to Look at her, he attempts to strip Stoynoff of both her humanity and her credibility by reducing her to an object to be judged on aesthetics alone.
This sentiment seems to be a supporting pillar of Trump's worldview. During primary season, Trump famously disparaged opponent Carly Fiorina by imploring voters to "Look at that face!" Soon after, he retweeted a meme that featured side-by-side photos of his wife, former supermodel Melania Trump, to opponent Ted Cruz's wife, Heidi Cruz — a clear attempt to compare their looks.
Whether he's allegedly insulting Kim Kardashian's body while she's pregnant, haranguing a New York Times columnist for having "The Face of a Dog," or tweeting his belief that Bette Milder is "an extremely unattractive woman," Trump has proven time and time again that he determines women's worth based on appearances, and that he's 100 percent comfortable disparaging them them when he doesn't believe they're up to par.
With his "look at her" quip, he also confirmed — whether intentionally or otherwise — that his perception that a woman is not attractive, not basic human decency, determines whether or not sexually assaulting her would be appropriate or possible.