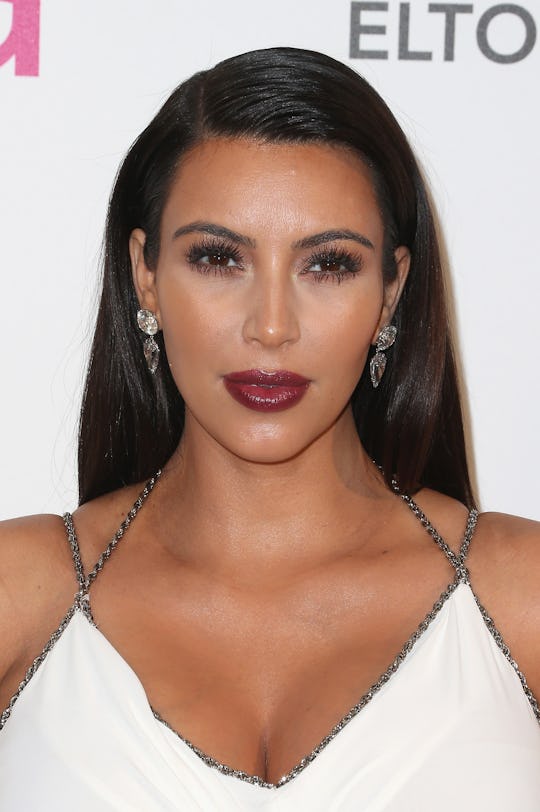 Frederick M. Brown/Getty Images Entertainment/Getty Images
Donald Trump Once Said Kim Kardashian Was Getting 'Large' — While She Was Pregnant
And now, for the least shocking revelation of the night: Donald Trump once said Kim Kardashian was getting "large" during an on-air interview, because he literally can't stop himself from denigrating women. The video of the Republican presidential nominee speaking on HLN's Showbiz Tonight resurfaced just days after his opponent, Hillary Clinton, eviscerated him on the debate stage by calling him out for dismissing women as "pigs, slobs, and dogs." So, for anyone even tangentially familiar with the lack of respect Trump often seems to show for women, it will be no surprise at all that not only did Trump feel it was appropriate to talk about Kim Kardashian's weight at all, he blasted her body while she was pregnant.
Trump, of course, let his opinion about Kardashian's appearance fly 100 percent unprompted. In the undated video, filmed sometime before Showbiz Tonight was cancelled in 2014, a reporter asks him whether he sees a problem with Kardashian's decision to register for baby shower gifts, even though she, like Trump himself, is super rich. "No, I don't think there is, and she's a nice person," Trump replied. So far, so good.
But then it devolved, fast, as Trump's conversations are often wont to do. " ... She's gotten a little bit large," he added. "I would say this, I don't think you should dress like you weigh 120 pounds."
The quick clip is a relatively mild version of the stuff Trump regularly tosses at women, but still emblematic of the way he views them and values (or devalues) them based on looks. "Look at that face!" he said, mocking then-primary opponent Carly Fiorina last year, according to a Rolling Stone profile. "Would anyone vote for that? Can you imagine that, the face of our next president?"
The Fiorina comment was a clearly gendered, though his camp claimed otherwise, demonstrating that Trump does not envision women in positions of power or clout — and it was further evidenced at the debate Monday night when moderator Lester Holt reminded Trump that he had once said that Clinton doesn't have a presidential "look."
But Trump's obsession with policing women he believes to be "fat" is its own kind of insidious.
It was perfectly illustrated during the debate as well, when Clinton drilled down on his mistreatment of women using one telling example: that of 1996 Miss Universe winner Alicia Machado. "This is a man who has called women pigs, slobs and dogs, and someone who has said pregnancy is an inconvenience to employers," Clinton said, adding,
... And one of the worst things he said was about a woman in a beauty contest. He loves beauty contests, supporting them and hanging around them. And he called this woman 'Miss Piggy.' Then he called her 'Miss Housekeeping,' because she was Latina. Donald, she has a name.
Her name is Alicia Machado. And she has become a U.S. citizen, and you can bet she's going to vote this November.
The "Miss Piggy" remark was the most illustrative. Machado, a Venezuelan woman, won the Miss Universe contest the first year Trump owned the organization. After her crowning, she gained some weight, and Trump pounced.
This man who would later campaign to become president of the United States called her an "eating machine" during an interview with radio host Howard Stern, and he invited the media to a gym to watch her work out, an experience she now says triggered eating disorders for years. "We've tried diet, spa, a trainer, incentive," he once said, according to Politifact. "Forget it, the way she's going, she'd eat the whole gymnasium."
Trump's disdain — subconscious or not — for women is clearly evident, as his remarks about Kardashian, Fiorina, Machado, and countless others prove. His preoccupation with others' weight is troubling, to say the least. Perhaps he should pay less attention to the way Kim Kardashian dresses and how much she weighs, and concentrate on debating Clinton on foreign policy.