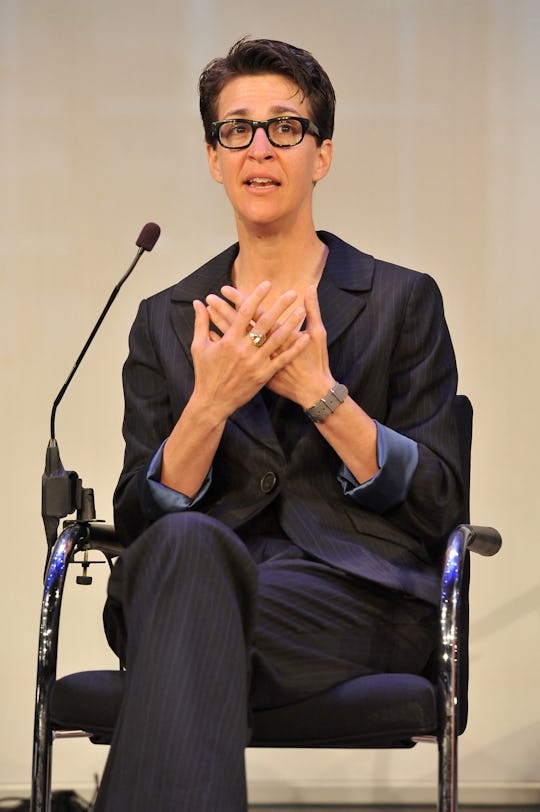 D Dipasupil/Getty Images Entertainment/Getty Images
Trump's Tax Returns Explained In Perfect Meme Form
We thought it would never happen. President Trump himself told us that we sort of didn't care if it ever happened. And yet, here we are. MCNBC's Rachel Maddow said Tuesday that she had gotten a hold of President Trump's tax returns, and we were all like, Wait, that still might happen? Why yes, children, yes it might. Thanks to Rachel Maddow, we may now gleefully spend the better part of our evening scrolling through Trump tax return memes instead of doing the dishes. Or maybe that's just me.
After the talk show host took to Twitter on Tuesday to share the news that she had somehow managed to get her hands on President Trump's tax returns, the internet lit up with possibilities. Trump had been dodging the bullet for months, initially delaying the release of his tax returns throughout his presidential campaign until he became president by citing an elusive audit that never seemed to end. Once elected, he flat out refused to share his tax returns, holding a press conference and telling the media, according to CNN:
You know, the only one that cares about my tax returns are the reporters, OK? They're the only ones.
Despite the fact that a poll carried out in October found that 73 percent of voters absolutely did care about seeing Trump's tax returns, Trump senior adviser Kellyanne Conway went on to tell CNN, "The White House response is that he's not going to release his tax returns."
That all changed this week.
Whatever Trump's tax returns might reveal (which is probably a considerable amount if his reticence to share them is any indication), the internet was all over the possibility with some delicious memes.
Some were pretty excited to see what President Trump's tax return from 2005 (the year Maddow has obtained) would look like in real life:
While Trump critics and concerned voters were understandably intrigued to find out what their newly-elected president had been doing with his multi-million dollar corporations before he took office, some social media users noted that Trump fans might not be terribly impressed.
And they were right. Trump followers were pointedly disinterested in Trump's tax returns. Which they pointed out again and again.
Some also wondered how President Trump, who has a history of making flagrantly misogynistic comments, felt about the fact that a woman was the person who released his tax returns.
Rachel Maddow, with the help of Pulitzer Prize-winning journalist David Cay Johnston, delivered some important information to the American people on Tuesday.
And we have the memes to prove it.