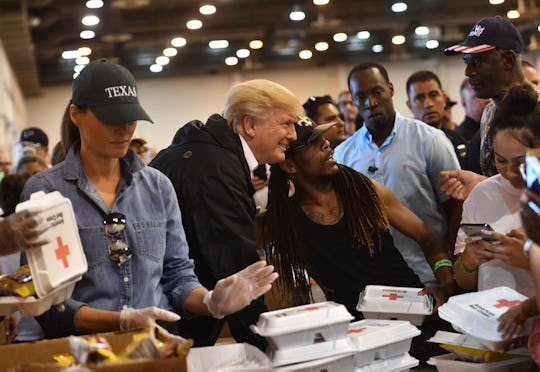 NICHOLAS KAMM/AFP/Getty Images
Trump Told Harvey Victims To "Have A Good Time," Missing The Point Yet Again
Donald Trump was criticized earlier this week when he went to Corpus Christi with meet with Texan officials about Hurricane Harvey. Since the storm was still in full effect, he was unable to really assess the damage or visit Houston, which was assaulted with unprecedented levels of rainfall and flooding. So, Trump decided to go back this weekend to visit with volunteers and victims. It would have been so easy to just pass out meals, talk to some victims in shelters, look people in the eye and listen to their stories. Too easy, apparently. Instead, Trump told Harvey victims to "have a good time" as he was leaving the shelter, showing that he totally misses the point of this whole "unifying leader" thing.
Trump was well received at the NRG Center, which is housing 1,200 families that were displaced by the flooding in Houston. People snapped selfies with Trump and hugged him, while he noted that the storm response has been "well received." On his way out, he told reporters and supporters who were gathered to "have a good time" and mentioned that he was pleased to see how much "happiness" he witnessed at the convention center. Trump added of the trip:
It's been really nice. It's been a wonderful thing. As tough as this was, it's been a wonderful thing, I think even for the country to watch it and for the world to watch. It's been beautiful.
He later joked while handing out meals to victims that his hands were "too big" for the required sanitary, plastic gloves.
Trump said of the flooding:
The flooding? Oh, yeah, yeah, there's a lot of water, but it's leaving pretty quickly. But there's a lot of water, a lot of water, but it's moving out.
Trump also declared Sunday a national day of prayer for the region. He said in another visit to the First Church of Pearland on Saturday that people should go to their church, pray, and "enjoy the day."
Going down again and meeting with victims and seeing the shelters for himself was necessary, as the nation's leader. But Trump's unwillingness or inability to stop to really consider the magnitude of the disaster and focus solely on congratulating himself (and the size of his hands) is ... well, it's not all that surprising. Though it is shocking to see how deep his ego really runs.
After declaring a largely useless day of prayer, telling victims of the storm, who have no home or belongings because of the storm to "enjoy" the day or have a "nice time" is so totally tone deaf. These families aren't camping at shelters. While it's important to come together and stay optimistic, there has to be a better way to convey that kind of message to Harvey victims. Hopefully Trump's team will think of one soon.