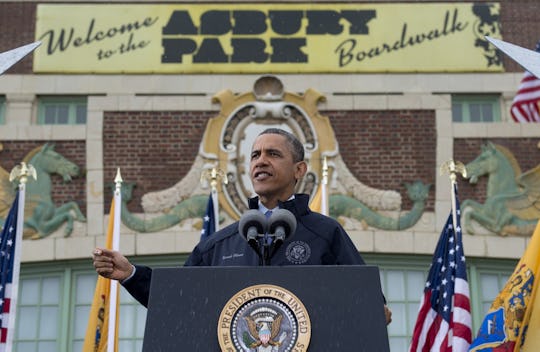 SAUL LOEB/AFP/Getty Images
This Photo Of Obama With Hurricane Sandy Victims Definitely Provides... Perspective
As Tropical Storm Harvey assaulted Texas with unprecedented rainfall earlier this week, Twitter users and the media outlets began to speculate about how President Donald Trump would respond to the disaster. As always, there were calls from some Americans to "not politicize" the weather. But anyone who doesn't believe that natural disaster preparedness and relief efforts aren't political is fooling themselves. They are inherently political, even in sometimes intangible ways, as this 2012 photo of President Barack Obama with Hurricane Sandy victims illustrates. The thing is, political life doesn't always mean approval ratings or bickering over policy. Sometimes it's about showing compassion, instilling a sense of safety, and acknowledging the reality of a person's situation, especially in the wake of a natural disaster or tragedy.
The 2012 photo of Obama is a reminder of that, and shows what leadership and empathy should look like. It's a very different kind of image than the ones taken of Trump on his visit to Texas this week. The now ionic photo, taken by then-White House photographer Pete Souza, shows Obama hugging a woman on the Jersey Shore, which was devastated by the storm just weeks before the 2012 election. It wasn't Obama's first time showing up to support those affected by a hurricane, either. Outrage broke out this week after a rumor spread that President Obama was playing golf during Hurricane Katrina. In fact, he was visiting victims of the storm, even though he wasn't actually president yet and wouldn't enter the White House for another three years.
But back to Sandy, a storm that destroyed beach towns up and down the coast of New Jersey, and parts of New York while Obama was president. Obama visited a handful of them and gave a speech in Asbury Park, New Jersey to residents and relief workers. He met with New Jersey Gov. Chris Christie, who, up until the storm had been stumping for Obama's opponent Mitt Romney. Some attribute the 44th president's reelection that November to the images of Obama comforting Sandy victims and putting personal beefs aside with Christie to his victory that November. During the visit, Souza snapped this shot:
Obama — and for a minute, even Christie — understood that there were actual people suffering after the storm, who would feel the financial effects of the hurricane for decades to come, and that funding the rebuilding effort was going to be a long and difficult process. But first, it was time to come together and hug it out.
Unfortunately, that's not the message that came from Trump this week. Our current president flew into Corpus Christie with the first lady on Tuesday morning and waved to people from a truck, commenting on the size of the crowd that was there to greet him. In his defense, the storm was still in full effect, so he couldn't go to Houston proper, but he later claimed that he saw the devastation "first hand," instead of just being honest about not being able to land in Houston without taking first responders off the scene to ensure his and his wife's safety.
Which actually, was a responsible thing to do. But being prudent isn't something Trump wants to be known for, apparently.
During his press conference on Harvey, Trump promised he and Texas Gov. Greg Abbott would "congratulate" each other after the "historic" relief effort, rather than remark on the unprecedented levels of damage done by the storm. He unfurled a Texas flag and played to the crowd, remarking that Texans could "handle anything," while families were still trudging through sometimes chest-deep water, not even knowing where they were headed.
Trump praised the Federal Emergency Management Agency, without acknowledging that he had proposed budget cuts to the agency to pay for his border wall, in addition to leaving key FEMA staff positions vacant.
Lastly, he and his wife wore campaign hats, essentially advertising his own gear. He met with no actual victims during his trip, though he plans to return to Texas this weekend. On Thursday, Trump pledged to write a $1 million check for Harvey victims.
"Look at the crowd! Rebuild like never before! Texas forever," was the bulk of his message to the country. "Here's a few bucks to help out." It was more like a campaign event than anything else.
That Trump could not take one hour out of his life to put away his $40 baseball cap, cut the meaningless superlatives, and show some semblance of empathy for the hundreds of thousands of people who were displaced from their homes, many of whom supported him in 2016, is not surprising. At all. But that doesn't mean it's not depressing AF.
It's only been less than a year, but it's hard to remember what it was like to have a president that could relate to all kinds of Americans in a time of need, politics aside. Remember what it was like to watch someone in the job who understood that being the president isn't always about fundraising, approval polls, or getting good press (and didn't make it obvious when it was)? The image of Obama comforting Sandy victims in 2012 really puts things into perspective. Even if disaster relief is political, compassion comes first. The images of Trump's visit to Texas this week show that Trump has no idea what that means.