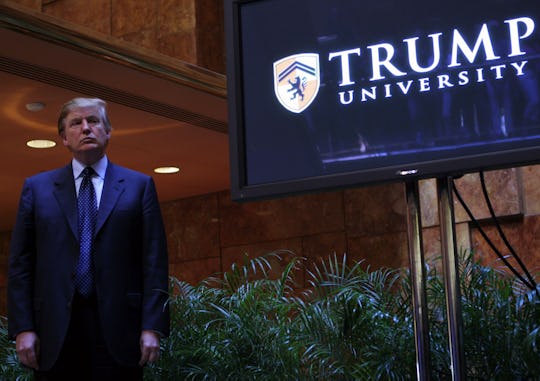 Thos Robinson/Getty Images Entertainment/Getty Images
Trump University Settles Lawsuit For What Many Are Calling A Tiny $25 Million
According to the Associated Press, Trump University settled its three lawsuits on Friday after President-elect Donald Trump agreed to pay $25 million to resolve them. New York Attorney General Eric Schneiderman said the sum would cover restitution for students, as well as $1 million in penalties for violating New York state education laws. The three lawsuits included two class-action lawsuits in California filed by former Trump University customers and one civil suit in New York filed by Schneiderman.
"In 2013, my office sued Donald Trump for swindling thousands of innocent Americans out of ​millions of dollars through a scheme known at Trump University," Schneiderman said in a statement on Friday. "Donald Trump fought us every step of the way, filing baseless charges and fruitless appeal​s​ and refusing to settle for even modest amounts of compensation for the victims of his phony university. Today, that all changes. Today's $25 million settlement agreement is a stunning reversal by Donald Trump and a major victory for the over 6,000 victims of his fraudulent university."
According to The Wall Street Journal, courses at the now-defunct Trump University cost between $1,500 and $35,000 and promised to teach students Trump's strategies for real estate success. Trump attempted to countersue for defamation in two of the lawsuits, but the suits were dismissed both times. According to the Daily Beast, Trump then told supporters during the primaries, "I don't settle lawsuits. Probably should have settled it, but I just can't do that. Mentally I can't do it. I'd rather spend a lot more money and fight it."
While $25 million isn't exactly a paltry amount, the settlement is definitely less than Schneiderman and students wanted: Schneiderman's lawsuit alone was for $40 million, according to the Los Angeles Times. Of the current settlement, $21 million will go towards reimbursing the Trump University consumers from the class action suits in California, $3 million will repay those not covered by the class action suits, and $1 million will go towards New York state for violating state education laws.
In June, on his campaign website, Trump wrote:
While this lawsuit should have been dismissed, it is now scheduled for trial in November. I do not intend to comment on this matter any further. With all of the thousands of people who have given the courses such high marks and accolades, we will win this case!
Trump doesn't need to admit to wrongdoing in order to settle the lawsuits. So far, he has not responded publicly to news of the settlement. Romper reached out to Trump's representatives, but did not hear back immediately.