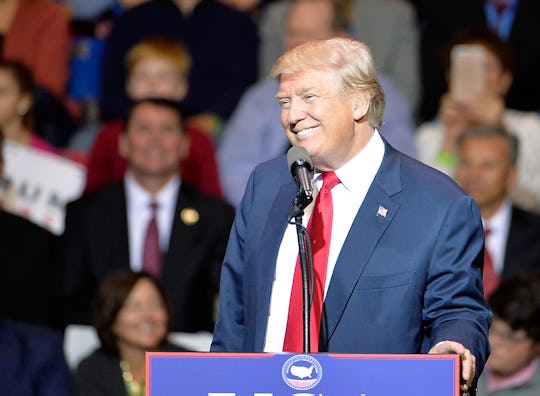 Sara D. Davis/Getty Images News/Getty Images
Trump Will Remain 'Celebrity Apprentice' Executive Producer, Despite Also Being President
President-elect Donald Trump has a big year ahead of him for 2017, so I hope he's taking some multivitamins or something. He has the big inauguration coming up, after which Donald Trump will become the actual President of the United States. And then he's got his side gig to worry about; According to MGM and NBC officials that spoke with Variety this week, Trump will remain executive producer of Celebrity Apprentice. Which means he is going to have real problems to worry about other than running the country, like whether or not Gary Busey can manage a hot dog cart in Manhattan for an afternoon or something.
Despite his recent insistence that he is extricating himself from his business matters to do the important work of running the country, it turns out President-elect Trump is keeping one sideline open. You know, just in case this whole president thing doesn't pan out and he needs a little something to help him pay the bills. Or maybe he's worried new Celebrity Apprentice host Arnold Schwarzenegger will just be way more popular than he was when he served as host of the hit NBC series before he went off on a two-year hiatus to take over the world. Either way, Trump's potential paycheck from the series could complicate things for the future president, since working for a major television network could be perceived by some to be a conflict of interest.
While neither NBC nor MGM Studios have released the exact sum Trump will earn per episode, Variety estimates it to be "somewhere in the low five figures." But money is not the only motivator here; it turns out Trump is a sentimental guy when it comes to his show. A spokesperson for Trump, Hope Hicks, told CNN Money, "Mr. Trump has a big stake in the show and conceived of it with Mark Burnett."
Reality-TV producer Mark Burnett reportedly met with President-elect Trump earlier in the week despite having distanced himself from Trump during his presidential campaign. Burnett released a statement in October that read:
Given all of the false media reports, I feel compelled to clarify a few points. I am not now and have never been a supporter of Donald Trump's candidacy. I am NOT "Pro-Trump." Further, my wife and I reject the hatred, division and misogyny that has been a very unfortunate part of his campaign.
Apparently Burnett is willing to put aside differences for now, since he is not only going to be producing the 15th season of Celebrity Apprentice alongside Trump, but is reportedly in talks to produce Trump's January inauguration. The New York Times reported that Burnett envisioned "a parade up Fifth Avenue, a helicopter ride to Washington from New York that could hold the attention of millions of people expected to watch from around the world."
It's nice to know that President-elect Trump, the first president in history to have zero experience in holding any political office, is focused on his Hollywood career and generating a big audience for his inauguration. What a shame it would be if he put his energy into... I don't know. Learning how to run the country or whatever. I guess he'll just make it up as he goes along.