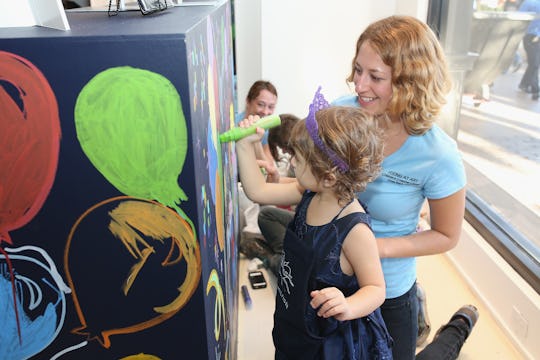 Robert Benson/Getty Images Entertainment/Getty Images
Cutting Kids Arts Programs Won't Make America Great
With the unveiling of a blueprint for his 2018 budget Thursday, President Donald Trump confirmed his vision for the nation. In order to dramatically beef up defense spending, the president is asking Congress to slash funding for programs like the Environmental Protection Agency and out-and-out eliminate vital services like Meals on Wheels. And in a move that will affect all kinds of people everywhere in the nation, Trump's proposed budget cuts arts programs for kids. If Trump and his administration have their way, the National Endowment for the Arts (NEA), which was established in 1965 and administers grants to "contribute to the vitality of our neighborhoods, students and schools, workplace and culture," would be no more. And that's a travesty of monumental proportions.
During fiscal year 2016, the National Endowment for the Arts received $148 million from the federal government, or approximately 0.004 percent of the $4 trillion budget. But while the slice of taxpayers' money appropriated to it is relatively infinitesimal, the NEA is a key funding source for local arts groups that serve everyone from schoolchildren to military veterans. What's more, the possible defunding of the agency would have an disproportionate negative effect in poverty-stricken neighborhoods, which are home to 40 percent of NEA-funded programs.
Here's why the elimination of the NEA would be particularly disastrous in those neighborhoods and other underserved areas: When the NEA administers a grant to a state, it does so under the condition that the state will match the grants in spending on its own arts agencies, according to The Atlantic. The less prestigious programs do not have the backing of private donors, and so rely on this money much more heavily than their well-known and already-thriving counterparts. As Quartz reported, the $112 million in grants that the NEA awarded in 2016 elicited another $500 million in matching funds from state, public, and private sources.
And while the resulting programs touch the lives of "individuals of all ages in thousands of communities, large, small, urban and rural," as NEA chairwoman Jane Chu wrote in a statement Thursday, they are absolutely crucial for kids. The NEA helps to fund school arts education programs, kid-centric museum programs and performances, and much more, Youth Radio reported.
Of course, the importance of encouraging kids, especially girls, to appreciate, excel in, and even pursue careers in science, technology, engineering, and math themselves can't be overstated, but its just as crucial that they have access to the arts.
In a piece for The Washington Post, author Lisa Phillips examined why exposing children to and making sure they participate in the arts from a young age is paramount. Reciting a monologue six different ways, she wrote, endorses the creative thinking in any future career; Taking part in theater builds confidence. Kids who are exposed to the arts build interpersonal skills like collaboration and taking constructive criticism. And, for PBS, Grace Hwang Lynch reported that creative activities are a cornerstone for building skills like language development, decision-making, and establishing a cultural awareness. Kids who participate in the arts are also more likely to succeed academically, she wrote.
And the NEA is the number one entity working to make sure that all kids have these opportunities. In Washington state, for example, the NEA provides the funding for Music Innovates. Under the program, Quartz reported, musicians visit Spokane Public Schools to help low-income fourth- through sixth-graders cope with trauma by learning how to play symphony instruments.
"These kids are getting incredible instruction through this grant," Spokane Symphony director Jennifer Hicks told the outlet. "It helps their brain development, helping them feel they have a valuable skill, and a sense of belonging."
Without funding, the NEA would no longer have the ability to nurture such essential outcomes all over the United States. Worse, the possibility would not exist at all. That may be the kind of America that President Trump wants. For many, though, a depriving youth access to the arts takes away something essential about what it means to be American, and even what it means to be human.