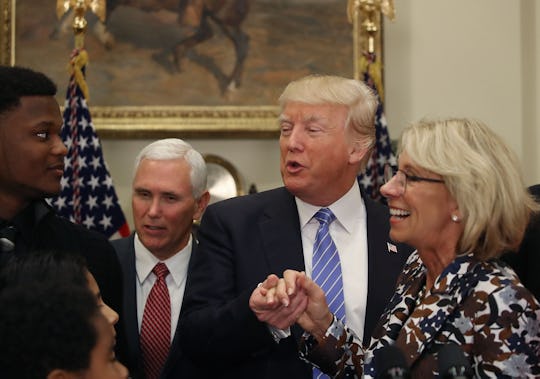 Mark Wilson/Getty Images News/Getty Images
Trump's Cabinet Is Allegedly Holding Bible Study In The White House
According to a report from the Christian Broadcast Network on Monday, Trump's Cabinet is allegedly holding Bible study every week in the White House. Vice President Mike Pence, Betsy DeVos, Jeff Sessions, CIA Director Mike Pompeo, Energy Secretary Rick Perry, and Health and Human Services Secretary Tom Price are among the attendees of the Bible study, which is taught by Capitol Ministries' Ralph Drollinger.
Donald Trump has allegedly been invited to attend the sessions and receives a print out of the weekly lesson. Romper's request for comment from the White House and Capitol Ministries were not immediately returned.
There's nothing illegal about hosting Bible study in the White House. During former President George W. Bush's administration, some staffers held weekly prayer meetings, according to The Boston Globe. There's just one rule that was issued in 1997 called the "Guidelines on Religious Exercise and Religious Expression in the Federal Workplace,'' which makes it very clear that supervisors can't pressure anyone to attend religious activities. But holding prayer meetings and Bible studies in the White House is not illegal.
Yet Capitol Ministries' mission is a bit more ambiguous: in fact, it's to bring religion to "every public servant" that it can. The organization has an entire strategy laid out on its website that explains its goal of reaching local and state lawmakers, Congress, and eventually, leaders in foreign countries. It claims that 68 U.S. Representatives and Senators attend a congressional session.
So what's the problem?
Lawmakers are allowed to practice any religion they want to, but the teachings of Drollinger and Capitol Ministries are extremely far right and evangelical. And it appears that the organization hopes to affect policy on a broader level, though its website states that it "stay[s] away from politics." Nevertheless, Drollinger has said that watching politicians spread the word of God pleases him.
He said of Sessions:
He'll go out the same day I teach him something and I'll see him do it on camera and I just think, 'Wow, these guys are faithful, available and teachable,' and they're at Bible study every week they're in town.'
Drollinger also holds some controversial views, especially regarding women and LGBT people. Drollinger believes that it is "sinful" for a female lawmaker to have children at home, especially if they are commuting to and from their respective state capitols and home. He also believes that homosexuality is an "abomination," and that Catholicism is a false religion.
It's unnerving to think of top Cabinet members, including the Vice President, being taught those sorts of lessons — especially since Trump campaigned on the idea that he supported the LGBTQ community and women, though his recent policy and speeches make it clear that that's not the case.
That said, it should come as no surprise that Trump's administration would be welcoming of such radical views in the White House. Evangelicals make up a large portion of Trump's base. Just recently, Trump was pictured praying in the Oval Office with evangelical leaders laying their hands on him. He recently tweeted that Americans should not worship politics, but God — although he didn't specify which one.
That might be the real issue about holding an evangelical Bible study in the White House. If the classes centered around another holy book, would legislators be so eager to attend, or allow it to occur in the first place? That's impossible to know, of course, but hopefully as legislators, they can remember that their religion has no place in politics.