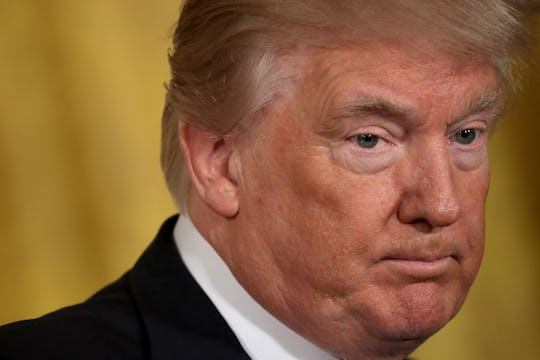 Chip Somodevilla/Getty Images News/Getty Images
Trump's Latest Sexist Diatribe Against Elizabeth Warren
President Donald Trump has never been the biggest fan of Sen. Elizabeth Warren. In the past, the Massachusetts senator campaigned for Democratic nominee Hillary Clinton, and ever since the election, she has routinely called out Trump's efforts to dismantle Obamacare and repeal environmental protections. Trump usually responds to her claims by simply dismissing her while calling her "Pocahontas" — and this weekend was no different. This time, however, Trump's Elizabeth Warren comments were more sexist than ever.
Trump was responding to Warren's criticism of the Better Care Reconciliation Act, which Senate Republicans unveiled on Thursday. Warren didn't mince words as she criticized the BCRA's attempt to cut funding to both Medicaid and Planned Parenthood. "Senate Republicans are paying for tax cuts for the wealthy with American lives," she said, according to HuffPost. "People will die."
Warren's criticisms didn't go unnoticed by the president, it seems. When he was asked about her comments on Fox & Friends this weekend, he neglected to actually dispute her claims and instead called her "angry." (He also seemed proud of the fact that he continually uses a racial slur to disparage an American senator, but that's another topic altogether.)
"I think she's a hopeless case. I call her Pocahontas and that's an insult to Pocahontas," he said on Fox & Friends. He continued:
I actually think that she is just somebody that's got a lot of hatred, a lot of anger. I don't think she has the kind of support that some people do. I think she hurt Hillary. I watched her campaigning for Hillary and she was so angry. Hillary would be sitting back, listening to her, trying to smile. But there were a lot of people in that audience that were going, "Wow, is this what we want?" There's a lot of anger there and hostility. So, no, I think she's a highly overrated voice.
The thing is, Warren is allowed to be as angry as she wants. The fact that 23 million people could lose their health insurance for no good reason is actually a very valid reason to be angry. Considering that she's a politician who represents a good number of Americans, I'd be mad if she weren't angry about Medicaid funding cuts that could affect one in five Americans. Of course she's angry that 30 million children and countless seniors could suffer because of the BCRA. She should be.
Instead of countering Warren's research-backed argument with numbers that actually support the BCRA, the president (disappointingly) chose to tone police Warren. And his dismissal is one that passionate women everywhere have heard time and time again. Research has shown that, in situations where they display anger, women are perceived as less competent than men who behave the same way — and significantly less worthy. Powerful men are seen as successful, whereas their female counterparts are labeled "bitchy." When men are angry, it is seen as a display of strength. When women are angry, they're too emotional, too volatile.
"It's a Catch-22," Sonya Rhodes, a psychotherapist and author of The Alpha Woman Meets Her Match, told Business Insider in 2014. "Whatever women do at work, they have to do it nicely. But the more you back off, the more they don't take you seriously."
Knowing that women's messages can be lost in translation is frustrating. But at the same time, think of it this way: By responding to Warren's argument with dismissive sexism, Trump lost a valuable opportunity to listen to — and more importantly, respond — to the valid arguments that lay beneath Warren's "anger." And while many others will dismiss Warren in the same way, a growing number of people won't. The world is becoming increasingly aware of how it tone polices women, and more women are refusing to back down. As actress Jennifer Lawrence wrote for Lenny Letter in 2015:
I'm over trying to find the "adorable" way to state my opinion and still be likable! F— that. I don't think I've ever worked for a man in charge who spent time contemplating what angle he should use to have his voice heard. It's just heard.
Fortunately for those of us who are listening, Warren is not the type to back down or give in to norms that expect her message to come packaged in niceties. So let Trump dismiss her as angry and underestimate her. The people who she represents need that passion.