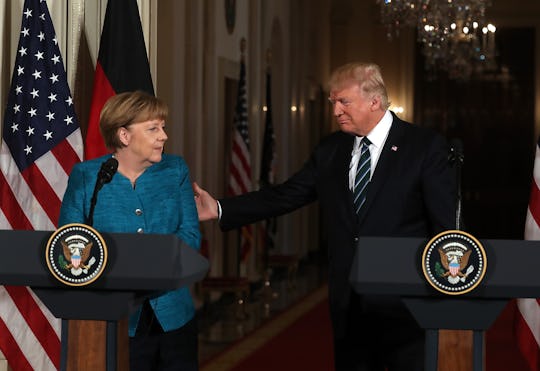 Justin Sullivan/Getty Images News/Getty Images
Trump Addresses Angela Merkel's Awkward Visit
President Donald Trump is still getting used to interactions with world leaders. Which is why, on Friday, when Trump refused to shake German Chancellor Angela Merkel's hand, things got kind of awkward, and everyone could see it. On Saturday morning, Trump took to Twitter to address the strange interaction, and Trump's response to Angela Merkel's awkward visit is just as weird, yet typical of the president.
On Friday afternoon, the president met with Merkel for the first time. Yet, as The New York Times noted, the interaction was "awkward" — especially since the two leaders do not see eye to eye on issues such as trade and immigration. It seemed as if even Merkel herself could bear to see the differences between herself and the president. "Well, people are different," Merkel said, according to The New York Times. "Sometimes it's difficult to find compromises but that's what we've been elected for. If everything went like that without a problem, well, you don't need politicians to do those jobs."
During their meeting, Trump "vowed" that the United States would not be out-negotiated on trade deals by Germany, according to The New York Times. Despite their conflicting views and the perceived weirdness during their meeting, Trump took to Twitter to address everyone else's interpretation and was quick to label their interpretations as "fake news" and used capital letters to really emphasize his point.
"Despite what you have heard from the FAKE NEWS, I had a GREAT meeting with German Chancellor Angela Merkel," Trump tweeted. "Nevertheless, Germany owes vast sums of money to NATO & the United States must be paid for the powerful, and very expensive, defense it provides to Germany!"
But even Trump has to admit that their meeting was a little strange, despite what he says in his tweets. In a video from their photo opportunity in the White House, Trump either ignores or doesn't hear Merkel's request to shake hands with the president. The result is undoubtably weird — and the memes and tweets that stemmed from their awkward meeting were pretty hilarious.
Yet, the focus of Trump's tweets is not the appearance of the meeting, but a key point of discussion from the meeting — NATO and defense spending. According to CNN, Trump believes that "many nations owe vast sums of money" to the United States for their "fair share" of defense — Germany included. "Many nations owe vast sums of money from past years and it is very unfair to the United States. These nations must pay what they owe," Trump said during the meeting, according to Al Jazeera — and Merkel herself said that Germany would increase payments.
Trump's meeting with Merkel was pretty odd and did get a lot of people laughing. That observation is no where near "fake news." Trump's response to the reactions to his meeting just emphasizes the bizarreness of it all.