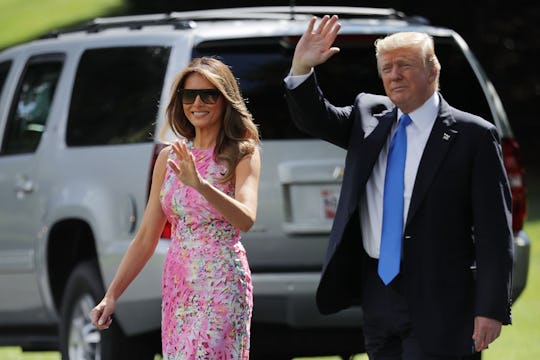 Chip Somodevilla/Getty Images News/Getty Images
Trump's Tweet About Trans People's Medical Costs & Disruption In The Military Sounds All Too Familiar
Early on Wednesday morning, President Trump was in the throes of his most divisive Twitter campaign yet. He chose to reverse the Pentagon's 2016 decision to end its ban against transgender individuals serving in the military, and he did so with a series of tweets to justify his discrimination. According to the president, allowing trans people to serve in the military is simply too cost prohibitive. And Trump's tweet about medical costs of trans people in the military should sound eerily familiar to Americans who have faced discrimination masked as budgetary restrictions in the past. The same claim was made to prohibit women from joining the military in the past, as well as gay people.
In fact, the U.S. Military has a long, dark history of hiding behind the easy excuse of tight purse strings to keep people out of service. Women have actually been serving their country in various capacities for at least 150 years (some women even fought during both the American Revolution and the Civil War disguised as men), but were not actually afforded the right to enlist until 1978. And even then, they were still barred from entering into direct combat or having assigned roles. Why? Because female-specific spending would simply cost the military too much money. As recently as 2012, a Government Accountability Office report pointed to the potential of additional costs if more positions were to be opened to women that had been previously closed to them. Because a pregnant woman would certainly cripple the largest military budget in the world, obviously.
The same excuse was used in the centuries-long fight to keep gay people out of the military. After trying their hand at several different excuses for years, according to Rolling Stone (homosexuals were "evil," mentally disturbed, security risks, etc.), the military finally settled on financial restrictions. In the years of the "Don't Ask, Don't Tell" policy, when service members could be gay as long as they weren't open about it, added financial concerns over military benefits and housing were used as reasons to discriminate against gay service members.
Trump's ban against transgender individuals serving in the military will immediately affect more than 15,000 people already in service, according to CNN — people who were meant to be protected by a 2016 decision by President Obama and former Defense Secretary Ash Carter to reverse the ban on transgender people in the military.
The president's excuse that it will be too expensive is ludicrous; the proposed military spending budget for 2018 is $603 billion, which is by far the largest budget of any country on the planet. And, covering the costs for transgender people's care would only increase health care spending by .04 percent, according to a 2016 RAND Corp. study commissioned by the Department of Defense. If you're still not convinced at how minimal the monetary impact would be: an analysis by The Washington Post found that the costs of Viagra for service members are five times what it would cost to provide medical care for trans service members.
That same 2016 Rand Corp. study also found allowing transgender people to serve would have "little or no" financial impact on the military budget. As Carter said in a statement in the wake of Trump's decision:
To choose service members on other grounds other than military qualifications is social policy and has no place in our military.
Sadly, these sort of decisions have been happening for years. And apparently, the future is looking a whole lot like the past.