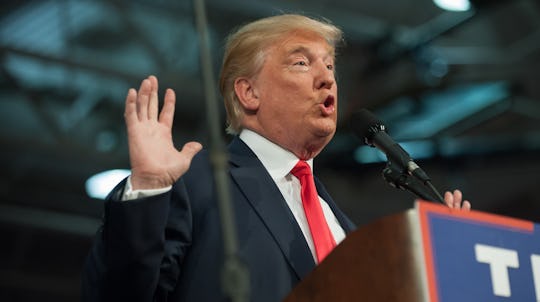 Jeff Swensen/Getty Images News/Getty Images
Trump's Tweet That His "Shackles Are Off" Shows Just How Unaware He Is Of His Privilege
On Tuesday, a wealthy white male running for president chose to use a rather interesting turn of phrase when lashing out at a fellow GOP party member. After Republican House Speaker Paul Ryan reportedly told Republicans that he could no longer defend nominee Donald Trump, Trump tweeted that his "shackles" had been removed. For a presidential candidate who has a difficult time reaching the African-American community, it was probably not his best choice of words.
Trump's tweet began with a tirade against Ryan, in which he called the House Speaker a "very weak and ineffective leader" who gave Trump "zero support." The social media lash-out came after Ryan told GOP members he couldn't defend Trump in light of Trump's 2005 comments about women, in which he said insinuated making advances on women without consent. Trump has since apologized for the comments and called them "locker room talk."
Freedom after taking off shackles, however, is a clear reference to slavery — and, honestly, it's a long shot from any experience Trump has had as a wealthy, white man with a privileged upbringing. As Twitter user David Simons put it in a response to Trump on Tuesday:
To use a shackles reference shows just how far you are out of touch with the African-American community. Shameful.
It would be a problematic — or at least ignorant — statement even without Trump's history with the African-American community. An NBC/Wall Street Journal poll found Clinton had just a slight advantage in August when it came to winning African-American voters' ballots, with a lead of 91 percent to 1 percent against Trump. In November 2015, Trump implied that his supporters were in the right when they attacked a Black Lives Matter protestor at a Trump rally, according to CNN. "Maybe he should have been roughed up," Trump said on Fox News after the rally. "Because it was absolutely disgusting what he was doing."
Let's not forget that Trump also failed to immediately denounce former Ku Klux Klan leader David Duke when he earned his endorsement in February. Then in June, after a video emerged showing a black protestor getting punched in the face at a Trump rally, Trump singled out a member of the audience and pointed him out. "Oh, look at my African-American over here," he told the crowd, as if to display that he had support from the African-American community. "Look at him. Are you the greatest? Do you know what I'm talking about? OK!" (One journalist called it "the most memorable line" of his speech, while another said, "Please, please tell me this did not just happen.")
Trump is clearly out of touch with the African-American community, and his latest "shackles" comment is further proof that if he wants to win the presidency, he'll have to learn to respect all of the United States' members — and their history.