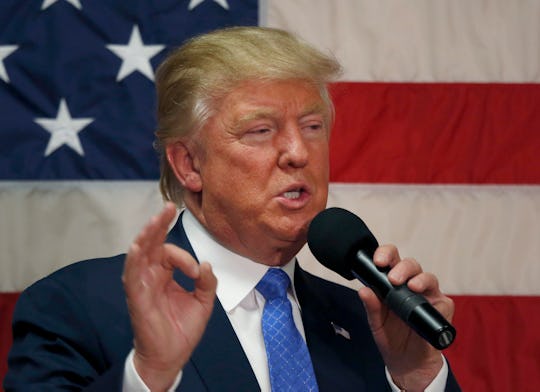 MARY SCHWALM/AFP/Getty Images
Trump's Hot Mic Comments About Women Aren't Just Lewd, They Show His Stance On Consent
Republican nominee Donald Trump has dished out his fair share of comments about women during his presidential campaign — but NBC recently unearthed some of Trump's most controversial comments yet, and they were made long before the presidential race began. In 2005, Trump's comments about women during an Access Hollywood interview were not only lewd, but a scary indication of Trump's stance on consent.
"I'm automatically attracted to beautiful women — I just start kissing them, it's like a magnet," he said, according to NBC. "I don't even wait. And when you're a star, they let you do it. You can do anything… Grab 'em by the p*ssy."
Then, spotting a woman through the window, Trump reportedly told Access Hollywood host Billy Bush, "Woah, woah. I gotta use some Tic Tacs just in case I start kissing her."
Romper has reached out to both Trump's campaign and Billy Bush's representatives for comment, but has yet to hear back from either. In a statement to The Washington Post, Trump said: "This was locker room banter, a private conversation that took place many years ago. Bill Clinton has said far worse to me on the golf course — not even close. I apologize if anyone was offended."
In his interview with Access Hollywood, Trump decided to include a story of his own, as well. Speaking about a married woman, Trump reportedly said, "I moved on her actually, she was down in Palm Beach and I failed. I'll admit it. I did try to f*ck her, she was married … and I moved on her very heavily."
"I took her out furniture shopping," Trump explained. "She wanted to get some furniture and I told her 'I'll show you where you can get some nice furniture.' I moved on her like a b*tch, and I could not get there, and she was married. And all the sudden I see her and she's got the big phony tits, she's totally changed her look."
The reemergence of Trump's comments comes at a particularly important time for the public, during a year in which issues of consent and sexual assault have taken over headlines. After Stanford student Brock Turner received a short six-month jail sentence for the sexual assault of an unconscious woman, state lawmakers in California unanimously passed a bill mandating prison time for certain cases of sexual assault. Starting next year, all school districts in the state will also have to provide mandatory consent classes in high school. And this year, the University of Oxford introduced mandatory consent classes for all incoming freshmen — a necessary move, considering that one in five women will be sexually assaulted while in university.
Both in the United States and abroad, an important conversation is taking place about sexual assault and consent — and it's one that needs to continue. The United States needs a president who, like President Obama, does not place the onus of stopping sexual assault on victims. "It's on grown men to set an example," Obama said in 2014, when introducing the "It's On Us" initiative. "It is on all of us to reject the quiet tolerance of sexual assault and to refuse to accept what's unacceptable." It's that kind of outlook that will help further the conversation on consent in the United States.
In the past, Trump has claimed, "There's nobody that has more respect for women than I do." However, his comments — both in 2005 and today — seem to speak for themselves.