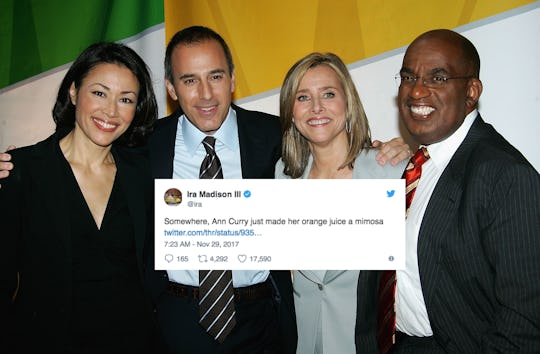 Evan Agostini/Getty Images Entertainment/Getty Images
Tweets About Ann Curry's Reaction To Matt Lauer's Termination Are Pretty Hilarious
Matt Lauer has managed to position himself as the stalwart mainstay of NBC's The TODAY Show for the past 11 years. He has weathered several co-anchors through his tenure, which actually began in 1996 when Katie Couric was the big name in their TV partnership. Lauer also seemed to be able to weather rumors that he struggled with his female co-workers, including former co-host Ann Curry who left the show amid reports that Lauer had allegedly pushed her out in 2012. But it looks as though his golden era has ended. People are tweeting about Ann Curry's reaction to Lauer's termination, which NBC reported on Wednesday morning. Because the internet never forgets.
TODAY Show co-host Savannah Guthrie was the one to announce Lauer's termination, which was reportedly due to an official sexual misconduct complaint that was lodged against the news veteran by a colleague. NBC News Chairman Andy Lack send out a memo about Lauer's termination, according to TIME:
A detailed complaint from a colleague about inappropriate sexual behavior in the workplace by Matt Lauer.
Lack also noted that there was "reason to believe this was not an isolated incident." A representative for Lauer did not immediately respond to Romper's request for comment.
Lauer is the latest in a string of powerful men in the media to be felled by allegations of sexual misconduct, including fellow morning talk show host Charlie Rose. As the news hit social media on Wednesday morning, it seems that the allegation against Lauer wasn't the only thing on people's minds... people were tweeting about Ann Curry and her possible reaction to Lauer's firing. Especially considering the rampant rumors that Lauer had a hand in her ousting.
Some suspected that Curry, a 20-year news veteran herself with a history of humanitarian reporting, might be doing a little celebrating.
When Curry left The TODAY Show in 2012, she had only been in the co-hosting hot seat for one year. Before that, Curry was the news reader for the show (she read news segments during the talk show) for 13 years (since 1997), according to The Daily Beast. Fans of Curry and the show will remember her terrible exit from the position (although she did remain on the show in an altered capacity), when she openly wept during her farewell and didn't appear to be overly concerned about hiding her disdain for Lauer.
At the time, NBC News executives reportedly felt that Curry and Lauer didn't enjoy a lot of on-screen chemistry, something New York magazine reported in 2013 could be attributed to Lauer's dislike of Curry offscreen:
It was obvious to [the show's executive producer] and others that Lauer wasn't trying hard enough to make it work with Curry because he simply didn't like her. Off air, Curry and Lauer had no relationship and barely spoke. If he stayed, Curry would be gone.
The show saw a dramatic dip in ratings in the wake of Curry's departure, and Lauer struggled to maintain his good guy, likable image, according to TIME.
And now, it seems fans are thinking of Guthrie as Lauer's kingdom topples.
In fact, "Somehwere, Ann Curry" began trending mere hours after the news broke about Lauer's termination, with fans imagining Curry's reaction to the news about her former co-host/possible nemesis.
In some cases, gleeful Curry fans imagined other female TODAY Show staffers hosting a little celebration as well.
While some may lament Lauer's termination from a network he worked with for more than 20 years, I actually think these tweets have the right end of the stick here. In the wake of so many stories of harassment and misconduct in the workplace by powerful men, it's finally time to consider the women who were held down by the old boys' club. It's time to consider careers that were ended abruptly and talent that was stymied by these men, rather than waste a moment of concern over their careers. They chose their path... now it seems they have to live with it.