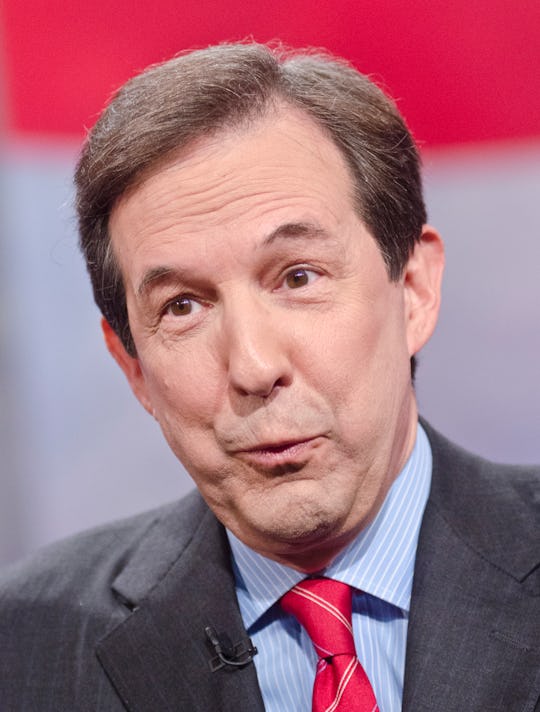 Kris Connor/Getty Images Entertainment/Getty Images
Tweets About Chris Wallace Moderating The Final Presidential Debate Show People Love Him
Well, Chris Wallace, this is your night. The Fox News Sunday anchor charged with moderating the final (and arguably) most important debate in the 2016 presidential election had a pretty overwhelming task at hand on Wednesday night. As Democratic candidate Hillary Clinton and GOP candidate Donald Trump were preparing to face off for the third and final time, tensions were higher than ever — and the job of moderator and chief interrogator rarely more important. So how did he do? As these tweets about Wallace moderating the final debate prove, Wallace killed it on Wednesday in his moderate, measured way.
That's the thing about the 21st century — one doesn't have to wait long for the reviews to come in. And the reviews are definitely (already) in: No matter which side of the political aisle you're on, you can't deny the outright class that Wallace showed on Wednesday night. Wallace brought decades of experience to the moderator's chair on Wednesday, and he clearly needed to draw on every ounce of that experience to not only pose questions to both of the candidates, but wrangle the reactions of the candidates themselves.
Within minutes of the debate's start, Twitter was sounding off on the moderator:
Wallace, who co-moderated three primary debates in the election cycle, went in to Wednesday night's debate with a simple, if rather controversial, agenda; He was all about that cloak of invisibility.
If people say, "it was a great debate and I don't remember you being there," I will have done my job.
His theory is that a moderator should allow the candidates to engage with each other and leave the moderator to simply pose the questions. While Wallace said that his role is not to be a "truth squad," he did manage to fact check Donald Trump on the spot during the March debate in Detroit. While Trump was pontificating about his budget plans if he manages to get elected, Wallace admonished him by saying, "Your numbers don't add up, sir." and pulled up two full-screen graphics to back up his point.
Of course, much has changed since March. The playing field has been whittled down to two candidates, both of whom have seen more than their fair share of scandal; Trump has spent the last few weeks dealing with accusations of sexual harassment while Clinton's camp has suffered an onslaught of leaked emails.
While the first two presidential debates were plagued with interruptions, insults, and even in one case, the threat of jail time, hopes were high that Wallace's reputation as a calm, steadying influence would keep the debate focused on the issues rather than the animosity between the candidates — but on Wednesday night despite his best efforts and solid presence, Wallace simply couldn't reign the candidates in (though you couldn't blame him for not trying).
But aside from the inevitable flood of partisan bickering, Wallace, whose turn as moderator marks the first time in history a Fox News anchor moderated a general election debate, brought a measured, balanced approach to the debate. Well done.
... And now on to the next stage: choosing the next President of the United States.