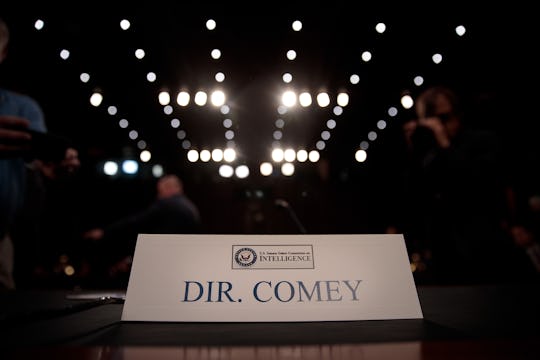 Drew Angerer/Getty Images News/Getty Images
Tweets About James Comey's Poker Face Are Hilarious
The American public has waited for this day. On Thursday morning, James Comey, former director of the U.S. Federal Bureau of Investigation, sat before the Senate Select Intelligence Committee to spill what he knows about President Donald Trump's ties to Russia. It was an intense meeting, and these tweets about James Comey's poker face during his Senate testimony are on point.
On Wednesday, Comey released a prepared statement ahead of his testimony that confirmed many of the comments the former director made after Trump fired him in May. It also revealed a lot of new information about the president, his need for loyalty, and his efforts to hide alleged corruption. Comey spent most of his testimony Thursday answering questions about his prepared statement and his interactions with Trump during his tenure.
Comey walked into the meeting with a stone-cold poker face, and everyone noticed. So much so that people rushed to Twitter to comment on the former FBI director's game face, which he held throughout the open session (yes, there were Lady Gaga references). He also kept a cool demeanor and his voice even, never once giving up his emotions or his intentions.
In other words: The former FBI director wasn't having it.
Nearly two hours into his testimony, Comey began to answer more direct questions about the investigation into former National Security Adviser Michael Flynn, the Trump administration's ties to Russia, and what role the Eastern country played in the 2016 election. At one point, the Senate Select Intelligence Committee asked Comey if he believed Russia interfered with the 2016 election. The former FBI director responded in the affirmative without hesitation, though he would later decline to answer whether or not he believes Trump "colluded with Russia."
He said, according to the Guardian,
There should be no fuzz on this whatsoever ... They did it with purpose. They did it with sophistication.
Comey had also told the committee that there is no doubt Russia will once again interfere with U.S. government operations. According to the Guardian, Comey said during his testimony,
It's not about Democrats and Republicans. They are coming after America, which I hope we all love equally.
After the public testimony ends, Comey will answer questions in front of the Senate Select Intelligence Committee in a classified setting. Throughout the open session, Comey often answered that he could not reveal certain information publicly, the Washington Post reported.