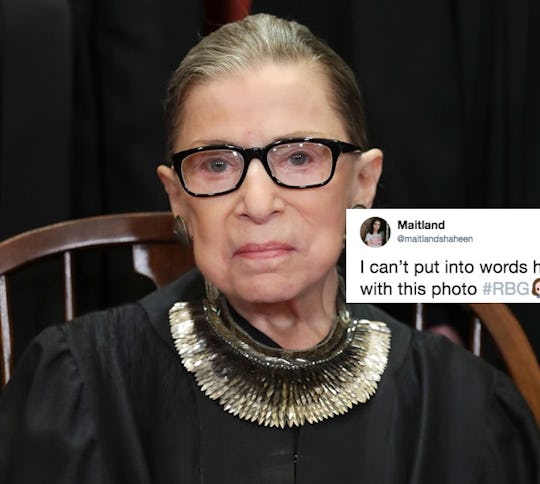 Chip Somodevilla/Getty Images News/Getty Images
Twitter Is Resonating So Hard With Ruth Bader Ginsburg In This New SCOTUS Photo
Supreme Court Justice (and straight up national treasure) Ruth Bader Ginsburg, is, to so many of us, a very much-need beacon of feminist hope. And now, nearly two months after judge Brett Kavanaugh was sworn in as the newest Supreme Court justice following a highly controversial hearing involving multiple allegations of sexual assault (all of which he has denied), Ginsburg seems to have gone and given us the perfect meme to sum up all our feelings on the matter. In fact, tweets about Ruth Bader Ginsburg's face in this new SCOTUS photo with Brett Kavanaugh show that those on social media are thrilled to see the 85-year-old doesn't appear to even sort of be pretending she's happy about what's happening.
On Friday, the members of the United States Supreme Court posed together for their latest group portrait, according to Marie Claire, which is also marks the first time Kavanaugh has been formally photographed as part of the group. Despite his tense confirmation hearing, and the backlash that followed when he was sworn in, Kavanaugh looks quite pleased to be posing with his fellow justices, and could be seen laughing along with a number of other SCOTUS appointees in some of the shots.
Ginsburg, on the other hand, seemed to remain pretty much entirely stone-faced throughout. While it's not entirely clear why she seemed so unimpressed, the internet naturally had plenty of theories.
For the most part of course, the photo seemed, more than anything, to just so perfectly sum of the way so many Americans are feeling Kavanaugh's confirmation. Ginsburg's expression basically represented the kind of face many of us feel like we, too, would have made if we're expected to sit for a portrait in front of him:
And, in fact, some eagle-eyed Twitter users noted that Ginsburg appears to be wearing what she has previously referred to as her "dissenting collar," an embellished collar she often wears to show disagreement on SCOTUS court decisions, according to NBC News, and one in which she also chose to don in court the day following the 2016 presidential election that ended with a win by President Donald Trump. And that certainly didn't appear to be a coincidence: earlier that year, Ginsburg told The New York Times:
I can't imagine what this place would be — I can't imagine what the country would be — with Donald Trump as our president … For the country, it could be four years. For the court, it could be — I don't even want to contemplate that.
In the end, the outcome Ginsburg was so concerned about it, is, of course, what happened: since SCOTUS judges are given lifelong appointments, Trump's presidency has already left a impact on the court through Kavanaugh's confirmation that will likely last much longer than his presidency. And given that Ginsburg stepping down, whenever that may happen, would also mean another vacancy for Trump to fill, many are extremely worried, and are hoping she's able to maintain her seat for many years still.
So far, at least, she seems to be hanging in there as best she can. Earlier this month, Ginsburg was hospitalized after she fell in her office and fractured three ribs, according to CNN. Of course, that, in itself, could also explain her perma-grimace, too. I'm not quite sure I'd be super smiley if I was still recovering from broken ribs in my 80s either.
To be fair, there were also many on Twitter who felt Ginsburg was out of line for appearing so unhappy, and who believed it was far past time for her to retire. But for the most part, Ginsburg once again seemed to be sending the kind of badass vibes the rest of are very much needing right now. And, let's be honest, the last woman anyone should *ever* be telling to smile is RBG.